The report looking into alleged corruption in the 2018 and 2022 World Cup bidding contests has been leaked to Bild, the German tabloid claims.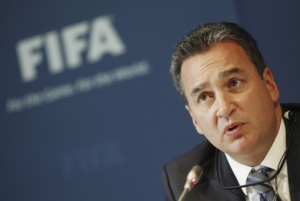 The newspaper is set to publish extracts from the 430-page dossier, authored by former FIFA independent ethics investigator Michael Garcia, over the next few days.
Bild said the Garcia Report includes details of a two million Swiss franc ($2m) payment into the account of the 10-year-old daughter of a FIFA official.
The tabloid also said it will explain the role that the leadership of the Qatari Aspire Academy played in manipulating FIFA officials with voting rights. It said three FIFA executive committee members travelled to Rio in a private Qatari FA plane in late 2010, just days prior to the vote that saw Qatar awarded the 2022 World Cup.
Peter Rossberg, the Bild journalist who claims to have obtained a copy of the report, said on Facebook on Monday night that the document did not provide proof that the World Cups in Russia and Qatar had been bought.
He said it would "be naive to believe that people like Garcia or [then deputy chairman of the investigatory chamber of FIFA ethics committee Cornel] Borbely could have been able to find definite proof."
However, he added that "especially with Qatar there are many strong indicators which basically don't allow for another conclusion. It's a genre picture about greed, corruption and cover-ups."
Rossberg has published some sections of the report on his Twitter account.
American lawyer Garcia led the investigation into the 2018 and 2022 World Cup bidding process but resigned from the FIFA ethics committee in December 2014 in protest over the handling of his findings.
Garcia had been unhappy with the 42-page summary of his findings that was released by German judge Hans-Joachim Eckert. The lawyer said he lost confidence in the independence of the ethics committee and that the summary, reduced from his 430-page dossier, had misrepresented his work.
The former U.S. attorney was appointed in July 2012 with the primary task of probing the controversial 2018 and 2022 World Cup bidding contests.
Bild said that the 430-page dossier was the basis for the arrests of FIFA officials in Zurich in May 2015, adding that the Garcia report led to several bans for high-ranking officials at the governing body.