93 Days is the true-life story of the men and women who risked their lives and made sacrifices to save the citizens of Nigeria from the outbreak of the highly deadly Ebola virus.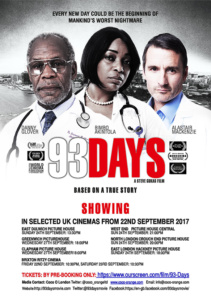 What happens when the deadliest infectious disease known to man arrives in a megacity with over 21 million people? Based on the true story of men and women who risked their lives and made sacrifices to save Nigeria from the consequences of an outbreak of the deadly Ebola virus.

When Patrick Sawyer a Liberian-American collapses upon arrival at the Muritala Mohammed International airport, Lagos Nigeria. He is taken to First Consultant Hospital, where he is admitted with fever-like symptoms. Against his denials of contact with any Ebola victim in Liberia, the team at First Consultant led by Dr. Ameyo Adadevoh (Glover: Lethal Weapon) quickly deduce there is more to his case than malaria. Their vigilance leads to an early detection that Mr. Sawyer has the Ebola Virus. A team led by Dr David Brett Major (Mackenzie: ITV's The Loch) now have a race against time to contain a deadly disease from breaking out and infecting an entire city and beginning what could be the biggest deadly disease outbreak the world has ever known.
The film recounts the heroic roles played by the Late Dr Adadevoh and her team at the First Consultant Hospital, Former Lagos State Governor, Babatunde Fas hold, former president Goodluck Jonathan, ministers of health at both state and federal levels in saving the country from a major epidemic which was eradicated 93 days after the disease was imported into the country. Produced by Steve Gukas, Pemon Rami, Bolanle Austen-Peters and Dotun Olakunri.
Enter the competition to win a pair of tickets to watch 93 Days.
93 Days runs from 22 September to 27 September 2017.
To enter let us know which one of these countries lost more people to Ebola.
(a) Sierra Leone, (b) Ghana, (c) Nigeria.
Just send an email with 93Days in the subject line to marketing@africanvoiceonline.co.uk
93DAYS Showing in selected UK cinemas from 22nd September 2017
East Dulwich Picture House on Sunday 24th September 13.30PM
West End Picture House Central on Sunday 24th September 21.00PM
North London Crouch End Picture House on Sunday 24th Sunday & 24th September 20.00PM
East London Hackney Picture House on Sunday 24th September 18.00PM
Greenwich Picture House on 27th September 18.00PM
Clapham Picture House on Wednesday 27th September 18.00PM
Brixton Ritzy Cinema on Friday 22nd September 10.30PM & Saturday 23rd September 10.30PM
Please list your CHOSEN VENUE, name, EMAIL, home address, mobile telephone number and the ANSWER.
It's that simple! Best of luck!
EDITORS DECISION IS FINAL
Kindly follow us on twitter:@AfricanVoice2