One of the few Nigerian Nonagenarians passed on quietly in a nursing home in London on Saturday 8 April 2017. Pa Babafemi Olatunde Shodeke was a repository of great wisdom and knowledge. The UK Nigerian community has lost a gem. Tributes has been pouring into African Voice news room since the World War 11 hero died.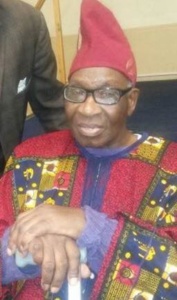 Tribute to Mr Babafemi Olatunde Shodeke a.k.a "Bobby" from Chief Adebayo Oladimeji, CHAIR, Nigerian Council of Elders UK (NCE).
My earlier meeting with Mr Babafemi Olatunde 'Bobby' Shodeke was in 1973 when I was invited to a meeting of student leaders at the Nigeria High Commission, Welfare Section, 22 Inverness Terrace, London W2. The meeting was convened by the then High Commissioner, H.E. Alhaji Sule Kolo. I noticed him as a constructively controversial participant. He represented Western State from Ogun, Nigeria. He has continued to be the same throughout his lifetime. The said meeting led to the inauguration of the remarkable Nigerian National Union of UK (NNU).
He was born in Abeokuta, Ogun State in 1924. He was educated at Igbobi college, Lagos. He joined the then British Air force and was deployed to England where he joined the fleet in Burma. His flight was brought down towards the end of the Second World War. He remained in England till the end of the war and has been since.
He gained the degree of Bachelor of Commerce at Birmingham University. He was a trained teacher with a Diploma and Masters in Education(CNAA). He was Senior Lecturer at South East London College, Lewisham. He worked with a variety of government establishments.
He was truly a community leader. He served on the Police Advisory Committee in Enfield; he was Court Member, University of Middlesex. He was founding member of Ogun State Union. Pa Sodeke, was Hon. Legal Officer for The Nigerian Council of Elders, UK (NCE). He died a jolly good fellow on April 8 2017. MAY HIS GENTLE SOUL REST IN PEACE.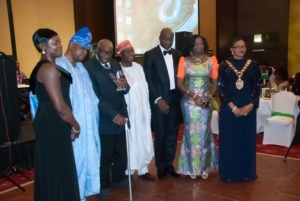 93 Memorable Years!! Eternal Rest Grant him oh Lord.
Papa was not just an illustrious grand descent of the famous Shodeke heritage of Egbaland, he was a twin friend of Pa Gabriel Lemoshe of blessed memory.
l first met both of them during the funeral ceremony of Prof Thomas Adeoye Lambo at St Paul's Cathedral London.
He was also a strong pillar and powerful voice of The Egbas, Yorubas, Nigerians, Africans and the Black Race. I remember meeting Pa Shodeke with His Excellency Dr Christopher Kolade, the Nigerian High Commissioner at the British House of Lords' reception organised by the British Nigerian Association BNA.
Papa became a father to so many of us, guiding, protecting, praying for us. He sent me birthday cards a couple of times.
A great legacy from our Pa Shodeke was his courage to stand by the truth and he would openly tell off those that were not honest with public funds. Papa was not afraid to stand alone. He was highly disciplined, blunt, no-nonsense, fearless and could not care whose ox was gored.
I have watched him tell off Nigerians in high places who did not perform to expectation. Pa Shodeke helped many Nigerians to settle down and to become successful in the UK.
He was a voluntary adviser to many High Commissioners who benefitted from his fatherly guidance. Papa was the foundation pillar of the Egba United Society and the
Nigerian Anglican Chaplaincy and other Yoruba/Nigerian Organisations. Papa will be greatly missed by all who believed in the Nigerian cultural heritage, Yoruba language, Christian discipline, honesty,courage, modesty, and love for humanity.
Pa Babafemi, Olatunde Shodeke, a great ICON in the Nigerian Community in the UK, a famous old student of Igbobi College ICOBA, a formidable African Leader, a gregarious Pride to the Black Race "sun re ooo. O digbose" Fondly remembered by: Chief (Mrs) Yemisi Agunbiade Sanusi.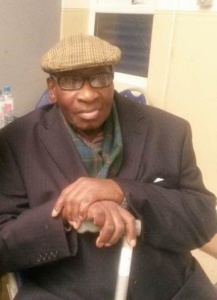 Mr Babafemi Olatunde Shodeke was a father figure to everyone at the Nigerian Council of Elders (NCE) UK.
Highly inspirational, at his age, he attended every meeting punctually. He was very dedicated, honest and reliable. He contributed positively to every topic and influenced everyone's life positively
We will miss him greatly. Pa Shodeke was very jovial, very caring and physically active. We drew courage and inspiration from his lifestyle. May his soul rest in perfect peace. By: Dr. Ashiru Abiola Welfare Officer, Nigerian Council of Elders UK (NCE).
When I learnt of the news of Pa Shodeke' s passing, I knew we have lost a dedicated, patriotic, straight-talking compatriot and that most of the diaspora Nigerians in the UK who share the commitment for the unity of our diverse national in the UK will feel his loss.
I first met Pa Babafemi Shodeke in 1984 at the Nigerian Nationals Union of UK's annual congress at University of Birmingham. Other fellow Nigerians and I went to Birmingham with the sole mission to get rid of what we were led to believe were corrupt, sit tight leaders who had no interests of Nigerians in the UK at heart but only serving their personal interests.
It was at that congress, when other hot heads like me were blazing accusations and blaming the elders for our lack of progress in the United Kingdom diaspora communities, when Pa Shodeke called me to a corner, he said "Aboki" (a hausa word for my friend) we moved to the corner of the hall  and  he spoke to me directly and frankly, he informed me and others  that he shared our views of change of the status quo, and the whole restructuring of the union, but caution against some of the wildest claims of misappropriation and exaggeration of any of funds given by the Nigerian High Commission for the union coppers.
He said "let me tell you Aboki a 5k of allowance is always reported as 50k for mischief purpose, which I later found out, whilst serving the union in the capacity of Secretary General.
Since that congress meeting, we became truly "abokis", he always cautioned, advised me and others, he was frank in his criticism, he criticised on merit of the case, during my time as the Secretary General of the Union, I always had the pleasure of calling on Pa Shodeke for guidance, he used to joke about the fact that now that we are in the union 'you people are 'chopping' all that thousands of sterling from the Nigerian Government". I will always remember his words of wisdom that 'seek for facts and the facts will speak for themselves'.
I will miss my Pa, my uncle and my Aboki  – Nigerians in the Diaspora will miss a frank, straight-talking Nigerian who worked tirelessly to bring all Nigerians young and old from all diverse backgrounds together for the benefit of all and the progress of the community in particular and our nation in general.
Good-bye Pa Shodeke, "Ka huta lafiya my Aboki" – Rest In Peace. Uncle. By Adamu Naiya, Former Secretary General Nigerian Nationals Union UK, Former Secretary Nigerian Patriots UK and President Kano State Association UK.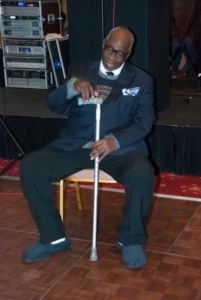 Fare Thee Well Baba Shodeke
On behalf of the entire Nigerian Community in the United Kingdom I express my sincere sympathy to the family of Baba Shodeke over the demise of their father, grandfather, great grandfather, uncle and brother.
Baba was a legend of our time and it was by divine providence that he became one of the recipients of the Pioneer CANUK Awards in 2015. But for that ceremony not very many Nigerians were aware of such a man with sterling qualities who fought in the 2nd World War to make sure the world today is at peace.
He was unassuming and never sought unnecessary attention to himself despite his track records. Nigeria indeed has lost a rare gem.
We can only take solace in the fact that one-day in the very far future we shall all meet again to part no more.
Adieu Baba SODEKE. Rest in His bossom. By Babatunde Loye, Chairman Central Association of Nigerians in the UK (CANUK).