By Golda John – The families of Chief (Dr) and Chief (Mrs) Peter Ozua and Mr and Mrs Troader Victu delightfully gathered the Crème de la crème in the society to the wedding between Assumpta Ejeme their beloved daughter and Horia their son in a two day eclectic, classic marriage ceremony.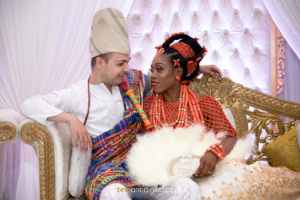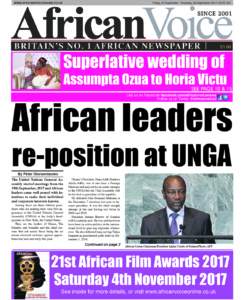 The traditional wedding took place on Thursday 14th September 2017, at the Willows, Forrest Road, Ilford, London. The scenery was a royal traditional wedding set up of the Edo Kingdom, Nigeria. Princess Assumpta appeared in her traditional outfit, looking gorgeous and beautiful, while Horia Victu, the groom, an IT Engineer from Romania, transformed into her Prince charming, a typical Edo prince, who stole her heart and swept her off her feet.
Both families and all celebrity guests in attendance, were all dressed in rich traditional outfits befitting the special occasion while they danced to traditional cultural music and delighted themselves with traditional foods and drinks.
The church wedding took place on Saturday 16th September 2017 at St Anthony's Catholic Church, Farnham Road, Slough.
All eyes were on Assumpta as she glided beautifully down the aisle as her father, Chief (Dr) Peter Ozua led her to the front happily, yet full of emotions knowing in his heart that she was really going away.
The Service was conducted by the Rev. Fr. Albert Ofere, who focused his homily on love, forgiveness, and forbade divorce. Assumpta and Horia made their vows in front of about 500 A list celebrity guests from around the world especially from Nigeria and Romania.
The reception followed at Ditton Park Manor, Royal Berkshire. The atmosphere was whimsical, featuring a decor that embraced everyone's mood and allowed for full relaxation, in preparation for the a la carte that followed with the very popular Nigerian jollof rice as a side.
While Assumpta was looking dainty, Horia was dapper in their outfits, more like fairy tale inspired characters.
The bride's mother Chief (Mrs) Elizabeth Ozua, well known for her sense of fashion, was simply scintillating and gorgeous.
The marriage ceremony between Assumpta and Horia was indeed a memorable one. Happy married to the newly wedded, Mr & Mrs Victu.
Additional Photo credit: tinoantoniou.co.uk
Kindly follow us on twitter:@AfricanVoice2