Forcing someone to marry is a criminal offence in England and Wales. It is an offence to use violence, threats, deception or any other form of coercion for the purpose of forcing a person into marriage or into leaving the UK with the intention of forcing that person to marry.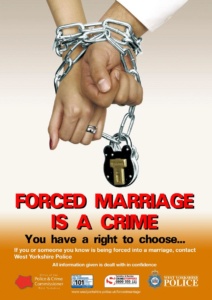 Police officers in South Wales have also been learning how to spot the warning signs of forced marriage and given advice on how to protect victims at a training session in Cardiff.
Staff from the Government's Forced Marriage Unit (FMU) told officers they had dealt with more than 1,400 possible cases last year. The unit had been alerted to the cases through its national helpline.
The training session, on Friday 17 November, was designed to raise awareness of the types of abuse victims might face and the reasons why a forced marriage might take place such as for protecting perceived cultural or religious ideals.
In addition, Forced Marriage Protection Orders can prevent people from being forced into a marriage and assist in returning British victims to the UK when they have been taken overseas.
To date, more than 1,250 orders have been made.
Other talks given during the meeting were from the police, who spoke about the local picture in South Wales, and the charity BAWSO, which specialises in supporting victims of forced marriage and FGM.
David Myers, Joint Head of the FMU, said: "We provide direct support to victims and professionals in the UK so we were pleased to be invited along to speak to officers.
"Forced marriage is often a hidden crime, and so raising awareness with police on the warning signs was invaluable.
"The presentation is one of around 100 outreach sessions the FMU delivers to professionals and communities each year."
Jon Drake, South Wales Police Assistant Chief Constable, said: "Reports of forced marriage to police are increasing – strategic partnerships with agencies, including those from the third sector such as BAWSO and Karma Nirvana, all help to develop our abilities to identify victims and understand their needs, which is helping to increase confidence in the police among victims.
"It is therefore vitally important that we are able to engage effectively with our partners to keep potential victims safe and bring those responsible for committing these crimes to justice.
"Awareness days such as this one serve to benefit both police officers and other agencies because they get to learn from each other and listen to experts from across the country about this important issue."
Angelina Rodriques, Deputy Chief Executive of BAWSO, said: "Bawso has been providing specialist services to women and girls affected by forced marriage for the past 22 years.
"The first two service users supported in refuge were young women who had fled forced marriage from Scotland.
"Over the years Bawso has acquired extensive experience supporting people affected by forced marriage from different BME backgrounds which adheres to best practice to ensure safety of the victims."
To call the joint Home Office and Foreign and Commonwealth Office-run forced marriage helpline, contact 020 7008 0151, 9am-5pm Monday to Friday or email fmu@fco.gov.uk. Out of Hours, call: 020 7008 1500.
Kindly follow us on twitter:@AfricanVoice2