Sephamid Bridge Foundation (SBF) recently rounded off its back to school project in Ewu Ekiti with signing of terms and conditions ceremony.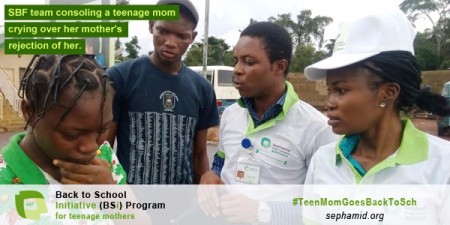 As part of its final day programme, SBF revisited some of the teenage mother participants and their parents.
One of the parents, Mrs Faseluka, a teacher in a primary school in the village lamented the unfortunate incidence of her daughter pregnancy and told SBF she got to know about her daughter's pregnancy after three months and discouraged her from aborting it because it could lead to death. She narrated how disappointed she was in her daughter because she always advised her not to engage in such but at the end of the day she got pregnant.
Mrs. Faseluka advised other teenagers, "not to experiment sex which could stop their dreams. Wait for your time; you young girls should listen and yield to your parent's advice." Parents also were not left out as she warned them to monitor their wards.
The parents appreciated SBF for initiative as theirs and prayed that God will help them. They also pledged to put plan in place to send them back to school once the teen mothers babies are weaned, as they thank SBF for assisting to better the lives of the teens.
SBF also visited the Palace of the king, the essence of SBF's vision was reeled out by the Coordinator, Mr. Dayo, and  that " SBF wants the teen mothers to read our terms and conditions in order to decide what to go for and sign in the presence of the king and the king to sign on their behalf also."
The very impressed King, Oba Bamidele Ajayi, the Elewu of Ewu-Ekiti, a rural community in Ilejemeje LG in Ekiti state couldn't hide his happiness that young and vibrant youths like SBF team could come up with laudable ideas such as this back to school initiative, as he urged government at all levels to support SBF to make their vision and mission possible in rural areas.
He added by advising SBF to take this sensitisation to students in schools because of the lost of family values observed among young boys and girls in secondary these days. Generations before this were conscious of their future by not engaging in anything that could damage their future but teenagers of today are not mindful of their future anymore, "so SBF should go and educate them; educative books that teach morals should be used to sensitize and educate the teenagers in secondary schools so that they will live a fulfilling life. Youths are the leaders of tomorrow and attention should be given to them by parents, guardian, teachers and community at large." He added.
He prayed for SBF that they will receive the blessings of God as they try to impart lives, as he called on the benefactors of SBF program: the teen mothers to show good attitude towards the support that SBF is giving and what they are going into.
Each teen mother pledged their seriousness and that they will do all their best to make the intention of SBF to come true on them.
The coordinator appreciated the king for his kind gesture and for receiving them.