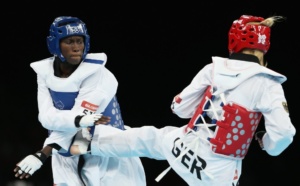 Ivory Coast won gold at the World Taekwondo Championships underway in South Korea, thanks to the heroics of Ruth Gbagbi.
The 23-year-old Olympic medalist defeated Tranian Kimia Alizadeh in the women's lighweight final to pick gold.
The country's speaker of parliament, Guillaume Soro, joined those congratulating her on her feat. She won bronze for Ivory Coast in the Rio Olympics and was awarded 30 million CFA ($51,000) and a house by the government.
Her male compatriot who won gold in Rio however failed to replicate the heroics of months back, Cheick Sallah Cisse was eliminated in the round-of-32 category of the welterweight contest.