Homeowners are being offered up to £1,000 a month by the NHS to rent their spare rooms as part of an Airbnb style model to free up hospital beds.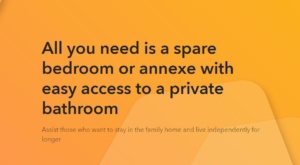 The pilot scheme, under consideration by NHS trusts and councils in Essex, could see adults without any care experience looking after newly released patients.
In return, those who sign up are asked to cook three microwave meals for their patient each day, provide them with drinks and 'offer conversation'.
Homeowners aren't required to have any prior care experience before housing their guest, but they are offered the opportunity to seek such training if desired.
The controversial scheme, believed to be the first of its kind in the UK, would create 'a safe, comfortable place for people to recuperate from hospital'.
It is expected to alleviate chronic bed shortages and stop delayed transfers of care, which are behind the worst bedblocking rates ever recorded by the NHS.
Angry campaigners are concerned that the plans, being distributed by flyers in hospital canteens, 'open a huge can of worms'.
They also warn it is being advertised as money making venture for hosts, rather than emphasising care.
The controversial plans are being funded by the NHS and councils, but patients may be able to pay CareRooms, the start-up company behind the plan, directly in future.
Each room will cost around £100 a night, with half going to the host. CareRooms would pocket the remainder, once care services had been paid for.
The pilot involves: Southend University Hospital Foundation Trust; Southend and Castlepoint, Rayleigh and Rochford CCGs; Essex County Council; and Southend Borough Council.
Kindly follow us on twitter:@AfricanVoice2