Following the outbreak of the monkey pox virus in Bayelsa State recently, other suspected cases have been reported in six more states in the country, bringing the total number of suspected cases so far to 31.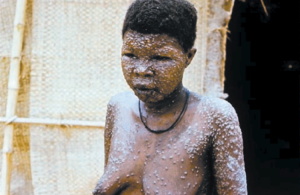 The states that have reported cases of the virus are Bayelsa, Rivers, Ekiti, Akwa Ibom, Lagos, Ogun and Cross River.
Making this known Monday, the Nigerian Centre for Disease Control (NCDC) said samples had been collected from each of the suspected cases for laboratory confirmation and results were still being awaited.
According to the centre's chief executive officer, Dr. Chikwe Ihekweazu, no deaths had been recorded as a result of the virus, adding that it remained unlikely that many of the suspected cases were actually monkey pox.
"All the suspected cases are currently receiving appropriate medical care and the patients are all improving clinically in their various states.
"The Federal Ministry of Health, through the NCDC, is supporting the affected states to ensure the outbreak is brought under control and to limit further spread.
"NCDC has activated an Emergency Operation Centre (EOC) to coordinate the outbreak's investigation and response across the affected states.
"The EOC is currently supporting state ministries of health in their response to the outbreak through active case finding, epidemiological investigation and contact tracing.
"Measures have been put in place to ensure effective sample collection and testing to enable laboratory confirmation.
"Risk communication activities have been heightened to advise the public on preventive measures. All 36 states and the FCT have been notified for preparedness," he said.
Ihekweazu warned that the monkey pox virus was a rare viral zoonotic disease with symptoms in humans similar to those seen in small pox patients, but much less severe and with a low fatality rate.
He said transmission could be via contact with infected animals, humans, or contaminated materials.
"Animal-to-human transmission occurs through bites or a scratch from animals and bush meat preparation.
"It can also be transmitted from one person to another. Human-to-human transmission occurs through respiratory droplets, contact with infected persons or contaminated materials.
"Control measures include isolation of suspected or confirmed cases, strict adherence to universal precautions, especially frequent hand washing with soap and water, and use of personal protective equipment," he added.
Kindly follow us on twitter:@AfricanVoice2