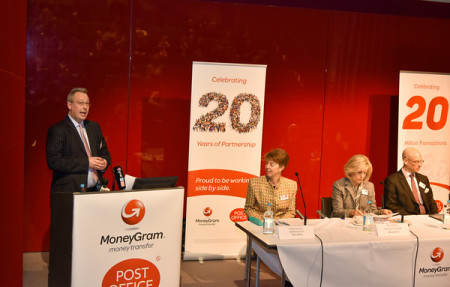 MoneyGram and Post Office celebrated a milestone in their successful long-standing business alliance by marking their 20-year relationship and their 20-millionth money transfer transaction at a ceremony at London's British Museum.
Marc Matthews Senior Regional Director – U.K and Ireland highlighted the company's Corporate Social Responsibility towards customers in Africa in an exclusive interview with African Voice.
Matthews said: At MoneyGram we do have this responsibility to ensure that we help and support the communities back in the countries where money is being sent to. Education will always be the key one for us, the books for schools, laptops, and iPads. There are many more projects for rural communities who also need the money, not just about the big cities like Accra in Ghana or Lagos, Nigeria; it's about the rural communities as well.
On a passionate note, Marc Matthews said: One of the key things is that we have a website dedicated to the MoneyGram Foundation which is now our global operations for providing grants for schools, for infrastructure so projects are funded now. What we are aiming to do in the future is, we are working closely with our partners, looking to our partners to work with us so it's not just a MoneyGram thing. We are working with our agents in different countries saying, let's all get involved in this, it's such an important thing that we do. There are people who desperately need the money, not just the money but the help, the support and the infrastructure to build and support their daily lives. So I will encourage people to visit the MoneyGram Foundation website, look at the different projects we have for Africa.
On the issue of customers concern about the exchange rate by MoneyGram. He has this to say: I share their concern. It is our number one priority. We are looking at what we can do to be more competitive than what we are now. We are talking to different people within our treasury department; we are also talking to central people within Lagos in Nigeria for example. It is the number one priority for our Regional Director who sits in Lagos. There's no day that goes by without her thinking of how best to go about it. Its key for the United States as well, they face the same issue, the small kind of unknown niche players are getting more higher naira rate than the more regulated players in the market. We are doing what the Central Bank of Nigeria are telling us to do. It's a huge priority for us to find a way to reach more of the Nigerian communities not just in the UK but also in the US and other countries around the world.
As part of the celebration, MoneyGram and the Post Office also introduced a new "MoneyGram Plus" card program to enhance the customer experience, saving time and making transactions even more convenient. "MoneyGram Plus" allows both the sender and receiver information to be stored in the MoneyGram system, thereby simplifying the process for repeat transactions.
"This is a significant milestone and a very proud moment for all of us at MoneyGram. The 20-year business relationship we are celebrating today is a testament to the strength of a shared commitment MoneyGram and the Post Office have to each other and most importantly to our customers," said Pam Patsley, MoneyGram's executive chairman. "We are excited to continue working closely with the Post Office to provide customers with simple and convenient access to financial services they depend on and trust."