Miss Teen Africa foundation the organisers of the annual pageant will on Saturday 25th November crown this year's winner at the Stratford City in London.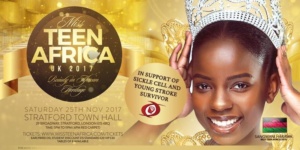 The pageant in its third year has contestants of African origin representing the 54 Independent countries of Africa.  The eleven finalists for 2017 are from Ghana, Nigeria, Uganda, DR of Congo, Zimbabwe, Cameroon, Togo, and Malawi.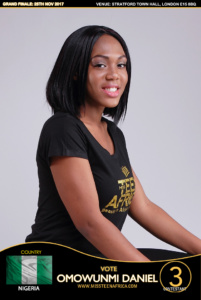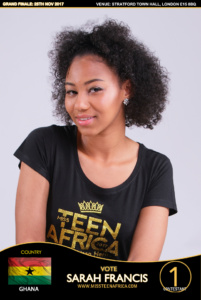 The line up of finalists this year is diverse and very competitive, according to Miss Teen Africa founder Yomi Adegoke  and "We are delighted the young women who have been selected depict everything that we hope the pageant represents; intelligence, integrity and Talent."
The young woman who is crowned Miss Teen Africa 2017 will automatically become the Goodwill ambassador of the Miss Teen Africa foundation and will be charged with designing and implementing a charity program based on her pageant platform.
Sangwani Harawa, the current Miss Teen Africa who recently launched the first-ever Girls Forum in the UK, will crown her successor at the 2017 pageant.
The Miss Teen Africa Pageant showcases remarkable young women aged 15 -19 of African Heritage. The pageant provides a safe and encouraging environment for young women to build self-confidence while enhancing various skills and capabilities. This year's contestants will exhibit grace, charm & elegance whilst promoting 'The Beauty of African Heritage'
The pageant promoting beauty and culture is a platform that aims to promote education across Africa and recognise the work of teenagers in the Diaspora community.
Miss Teen Africa foundation is supporting Sickle Cell & Young Stroke Survivors (SCYSS). This year the pageant has introduced the Teenovation Africa and Awards.
The ceremony will hold on Saturday 25th November at the Stratford Town Hall, 29 Broadway, London E15 4BQ from 6.00pm to 11.00pm. Tickets to attend the event is available on Eventbrite: visit www.eventbrite.co.uk/e/miss-teen-africa-uk-2017-and-award-night-tickets-37815293561