A young girl from Fiditi, a rural part of Oyo has emerged the winner of the National Mathematics Competition and was awarded N6 million scholarship and transferred to a private school in Abuja. The girl, Morufat Lawal, hails from the sleepy town of Fiditi, Afijio local government.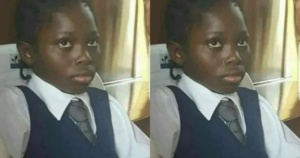 Against all odds, she beat several students from private and public schools to win the N6 million scholarship award. It is gathered that Lawal now attends International Model Science Academy, Abuja – a school run by the National Mathematics Centre. According to a Facebook user, Modupe Jessica Bewaji, Lawal was not brought up with a silver spoon and attended a school that lacked basic amenities as against her opponents from private schools.
In 2014, Morufat became the first pupil in primary three and in a public school to represent Oyo State at the national level of the prestigious national Mathematics Olympiad organised by the Mathematical Association of Nigeria (MAN). She had been selected to represent her school (A.D.S Primary School, Fiditi) at the local level of the competition. She trounced over 40 other contestants to qualify to represent her local government (Afijio) at the zonal in level.
The zonal stage involved 12 winners from four local governments (Afijio, Atiba, Oyo East and Oyo West). Morufat still came tops, despite being in primary three. At the state level of the competition, held at the Emmanuel Alayande College of Education, Oyo, this prodigy competed with 23 others, who were winners at the respective zones, and came third and was primed to represent Oyo state at the national edition hosted by the University of Ilorin.
Here, she was paired with another pupil for the quiz category. The duo came first, beating 40 contestants from other states. She was presented with a cash gift. Morufat, as a primary four pupil, again represented Oyo state in Abuja in a JETS competition organised by the Federal Ministry of Education. She took the first prize to the amazement of guests at the event when she was announced as a public school primary four pupil.
She also received a donation of N100,000 from the state government as a booster for her performance and to encourage other pupils and parents in the state.