Mark Alive Show on Boxing Day 26th Dec 2017 was the place to be to crown the year with Laughter.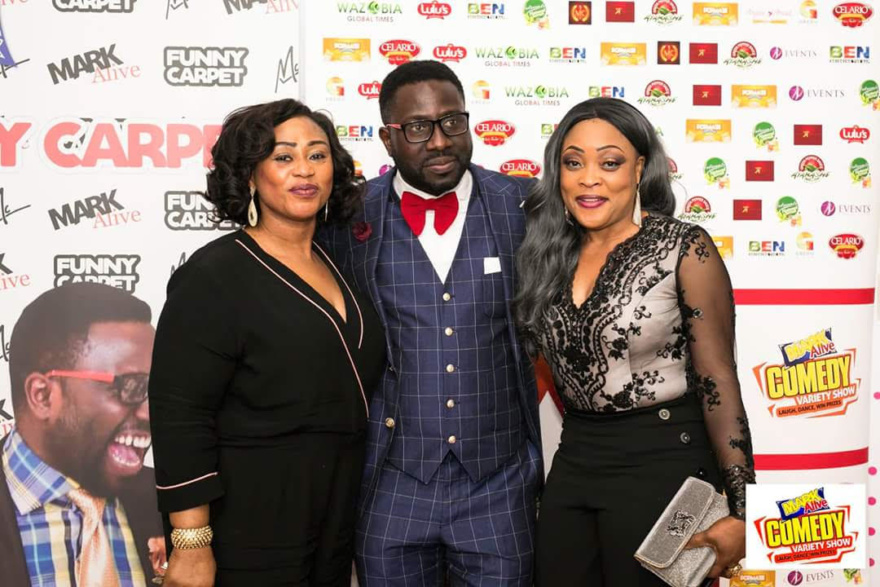 The Funny Carpet segment and camaraderie was hosted by Tunde Bella, from 4.00 – 5:30pm while the main show kicked off at 5:45 to a hall packed full of expectant crowd consisting of professionals, politicians, Christian and Islamic scholars and business owners as well as youth.
Comedy, Satire and innuendos from Mc Neyo, OJB, AKPOS COMEDIAN, MR Cee, Wale Gates and the youngest comedian on the scene: Ted Bobo got the crowd reeling with Laughter. Interactive comedy by Gloria Ade and Ola Bella kept a different touch of humour while the main host and extraordinary Mc Mark added funny depth and motivation with business, current affairs, and politics; all in one night.
There was also the talent contest segment which allowed the crowd to vote their favourite artiste who won cash and prizes sponsored by Big Lottery fund. The show was fun from A-Z apart from genuine 1st class treatments VIPs went home with sourvenirs from sponsors such as Angels bread; CELARIO sause & Ayamase.
Guests who featured in games won prizes such as hotel experience with spa, peplom tops, cash and luxurious hampers. Show powered by branding masters MM (marketing minister) a massive kudos to the master of live entertainment Mc Mark for facilitating this experience of comedy tinged with class. Mc Mark promises another level of variety of entertainment on Boxing Day 2018 to end the year with laughter and relaxation with business undertone at Mark Alive show 2018 Boxing Day. That's your boxing day every year sorted for you everyone.
World renowned Olamint captured the photos and videos while DJ Tallest wowed the crowd on the wheel of steel. If you know someone in Aberdeen tell them to be ready on Bank Holiday Friday 25th May 2018 for the Aberdeen version of Mark Alive Show.
Kindly follow us on twitter:@AfricanVoice2