The world of film and television is fast changing. Are you a practitioner locked in the ancient practice of filmmaking or still not reaping real returns on your investment? Are you interested in a career in film and television? Do you want to be part of the world of entertainment? Attend a one-day Masterclass with a renowned Film & TV Producer, Linda James on Friday 3rd November 2017 in London.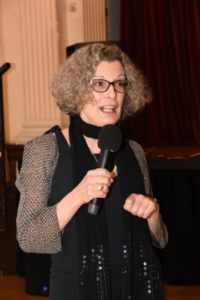 The course title: Changing World of Film.
The one – day Masterclass aims to build the capacity of filmmakers including actors, writers, producers, directors and those interested in the film industry.




Lead Facilitator: Linda James is an award-winning Independent Producer/Executive Producer of 20 drama series, 6 TV movies and 16 feature films. Co-founder of Red Rooster Film and Television Entertainment (which she sold to Chrysalis Plc) and Alibi Communications (which was floated on AIM), she now owns and runs Sly Fox Films. As well as developing feature films and television dramas, Sly Fox undertakes various private and public media consultancy work, and from April 2005 to 2011 Linda fund managed the Welsh Assembly's £11m Creative IP Fund, investing in film, television and new media projects. Linda has been Honorary Chair of the Edinburgh International Television Festival, a Governor of the British Film Institute (BFI).
The course will take place in South West, London on Friday, 3rd November 2017 from 10.00am – 4.00pm.
A certificate will be issued by Sly Fox Ltd to all participants at the end of the Master Class.
Cost:
£75.00 per participant (Members of recognised industry Guilds)
£25.00 for Students 16 – 24years old.
Interested participants should email: marketing@africanvoiceonline.co.uk or (Text 07814 234 376)
Courtesy: Sly Fox Ltd in association with African Voice Newspapers, organisers of the annual African Film Awards.
Kindly follow us on twitter:@AfricanVoice2