A close friend of the ringleader of the London Bridge terror attack has been jailed after making Islamic State propaganda videos outside Windsor Castle.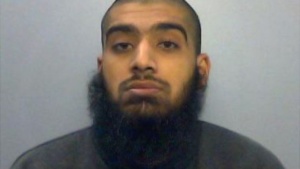 Taha Hussain and another radical extremist filmed themselves making threats and yelling IS slogans in a car outside the castle and at the nearby Coldstream Guards barracks, on the day after the Paris terror attacks in November 2015.
The 21-year-old, who was sentenced to four-and-a-half years in prison, was close friends with Khuram Butt, the man who led two other terrorists to run over and then stab innocent members of the public on London Bridge and in Borough Market in June.
According to Sky News , Security sources informed that had he not been arrested 10 months before London Bridge, it is "perfectly conceivable he'd have gone on to play a part in that attack".
Hussain was also part of prolific terrorist recruiter Anjem Choudary's circle of radicals, and was regularly pictured with other members of the group at protests and rallies.
Choudary is also now in jail, serving five-and-a-half years for encouraging support for IS. Hussain had been sending radical material to Mohammed Sufiyan Choudry, 23, another preacher from Maidenhead, who was jailed earlier this year after talking about trucks full of explosives driving down Oxford Street.
Another recipient, Mohamed Abdulkadir Osman Mayow, 23, a former Asda worker from Hayes, west London, who called himself Abu Zubayr, was jailed for five years and two months in February for spreading terrorist propaganda.
His contacts also included Omar Hussain, a Morrison's security guard from High Wycombe, who went on to join IS using the name Abu Saeed al Britanni.
Taha Hussain, from Slough, was found guilty of seven counts of disseminating terrorist publications after a trial at the Old Bailey in July.
The court heard he ran two YouTube channels which he used to broadcast extremist material. He also used the encrypted WhatsApp and Telegram messaging services to disseminate documents and videos, including one called "Lions of the UK".
When asked about the videos made in Windsor in court, the apprentice panel beater, who had become religiously observant at the age of 15, claimed he was there "to feed the ducks".
Six separate clips were later found on his phone. Hussain and the other man could be seen driving past the castle and the barracks, listening to an Arabic chant called a nasheed while giggling in excitement.
"See that place over there? (Windsor Castle) Insha'Allah, we're going to (tear) up the British flag (replace it) with that of sharia Insha'Allah, of the Emir al Mumineen (Leader of the Faithful) Abu Bakr al Baghdadi," Hussain says in one clip.
Hussain also made a video outside Hounslow barracks with Haroon Ali Syed, 19, from Hounslow, west London, who was jailed for life in July for plotting a terrorist attack at an Elton John concert in Hyde Park.
Detective Chief Superintendent Kath Barnes, head of counter-terrorism policing for the southeast, said extremist posts like the ones shared by Hussain "have the power to influence other people and particularly those who may be young and impressionable or vulnerable for a variety of reasons".
She added: "This could lead to those influenced individuals committing acts of terror which clearly has devastating effects on communities, the individual and their family and friends."
She said counter-terror police would continue the work to identify those responsible for spreading terrorist propaganda and would be "relentless in our efforts to keep people safe".
When Hussain was arrested in August 2016, police found he had the black flag of IS as his screensaver and his PIN number was 9117 – an apparent reference to the 9/11 and 7/7 attacks.
Other images on the device showed the black flag of Islam superimposed on an image of the Houses of Parliament burning and also flying outside Number 10 Downing Street.
Kindly follow us on twitter:@AfricanVoice2