Fifteen dissidents, including a well-known rapper, have been jailed for plotting a coup d'état to oust President Jose Eduardo dos Santos.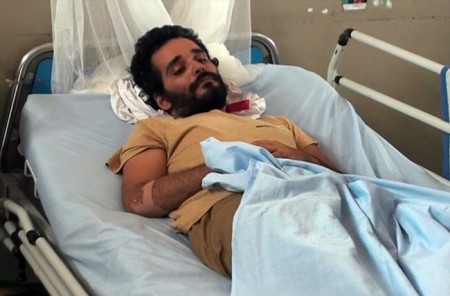 A well-known thorn in the government's side, Henrique Luaty da Silva Beirão, who is known professionally as Luaty Beirão or Ikonoklasta (Iconoclast in English), has been arrested on a number of occasions on what he says are trumped-up charges.
In June, he and 16 other dissidents were arrested after participating in a book club discussion of Gene Sharp's 1993 book on nonviolent resistance, From Dictatorship to Democracy: A Conceptual Framework for Liberation. Two were released without charge, but this week a judge in Luanda handed Beirão and Domingos da Cruz, the alleged ringleader, five and a half years and eight years respectively for conspiring to overthrow the president. Thirteen others received shorter sentences.
Angolans have called the trial a farce and international human rights groups described the verdict handed down by the Luanda court as "outrageous." More optimistic observers see the trial as a tipping point for public outcry.
Oil-rich Angola has grown to become the continent's third largest economy since the end of its civil war in 2002, but citizens are increasingly angry about government corruption, repression, and violence. Demonstrations against the group's arrest have continued despite police crackdowns on protests.
Dos Santos, Africa's longest serving leader after Equatorial Guinea's Teodoro Obiang, said this month that he would leave "active politics" in 2018 after the country's next election is in 2017 after having held his position since 1979. Sceptics have questioned why the 73-year old did not volunteer to step down before the election and whether he would quit as head of the ruling party, the Popular Movement for the Liberation of Angola.