By Ronke Adeagbo – With the Nigerian economy slowly coming out of recession and the Naira and oil prices falling over 50% in the last couple of years, there are no prizes for guessing that our economy is on a slippery slope and desperately needs a 'shot in the arm'. Essentially, an enabling environment to encourage both local and foreign investors to invest in the Nigerian economy and help us navigate away from being a mono-product economy.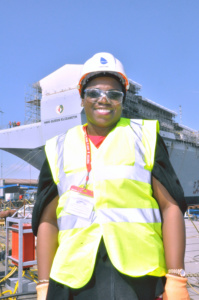 This article is an attempt to use India as a case study to ascertain whether Nigeria could use some of its economic and improved health & safety initiatives. These initiatives have now propelled India's economy to become the world's sixth largest economy by nominal GDP and the third largest by purchasing power parity.
The Nigeria government is right to prioritise diverting the economy. But this cannot be achieved by 'a wing and a prayer' only. Apart from coming up with a well-thought out and carefully implemented diversification strategy, to ensure the financial viability of our nation, there are other key enablers that could oil the wheel of the process. Some key enablers include, health and safety awareness, re-orientation, regulation and compliance. These are important parts of the jigsaw puzzle and catalysts that would reassure investors their investment would not go up in flames overnight. I daresay, that any country that ignores health and safety, which includes security as well, does that at its own peril. An unsafe and unsecure business environment will repel investors, especially foreign investors.
Nigeria is well known internationally for its security challenges and complacent approach to health and safety issues. In my opinion, the perception, both real and unreal, which international investors have about Nigeria as an unsecure and unsafe country, makes international investors apprehensive when deciding to invest in Nigeria. But I daresay to investors as well, that you avoid Nigeria at your own peril.
Most foreign companies when deciding to access international markets as part of their international/growth strategy, prefer to go for countries such as India or Gulf Cooperative Countries (for example the United Arab Emirates) and sometimes consciously decide to avoid Nigeria. Basically, this is because we do not rank high enough in the league table of market attractiveness and ease of doing business, despite Nigeria having a huge market. Security and safety challenges, such as Boko Haram insurgence, kidnapping, vandalism, armed robbery, poor infrastructure, poor building control, high level of avoidable accidents, 419 fraudsters etc, is working against Nigeria's reputation and some rebuttal action needs to be put in place quickly. Hence, probably the India experience and model could be the 'silver bullet'. This is because it has been tried and tested and it seems to be working, especially when you see head of states and especially the UK Prime Minister flying across the world and trying to get into bed with India for trade purposes and bending backwards to accommodate their visa challenges.
Following market-based economic reforms in 1991, India became one of the fastest growing major economies. Between 2006-2016, India's GDP grew at the fastest pace in its economic history at 7.6% and at 7.1% in 2015-16. The ease of doing business and transparency index also has risen significantly under the current government.
Multiple government initiatives create a conducive environment for foreign investment in India, which is expected to boost growth in 25 key sectors including automobiles, chemicals, pharmaceuticals, construction, manufacturing, machinery, textiles, ports, mining and energy. Typically, increased foreign investments led to requirements to adhere to international standards of quality in all aspects of operations including health and safety.
India being the second most populated country in the world, with nearly a fifth of the world's population, in March 2017, has a population size of 1.3billion. So naturally, it would be very attractive to foreign investors for the sheer size of the market, cheap labour and the fact that most developed economies/markets are becoming overcrowded and countries with huge population like India and Nigeria provide the desired new market opportunities. But an enabling environment is key.
Two initiatives introduced by India are 'Make in India' and 'Smart Cities', which are major national programme launched in 2014 designed to: facilitate investment, foster innovation, enhance skill development, protect intellectual property and build best in class manufacturing infrastructure in the country. Smart cities is an urban renewal and retro-fitting program by the government of India with a mission to develop 100 cities all over the country making them citizen friendly and sustainable. Smart cities are projected to be equipped with basic infrastructure offering a good quality of life.
However, prior to introducing these initiatives, India had numerous health and safety challenges, similar to Nigeria. With complex legislative framework with inadequate implementation. There was no legislation to protect the huge workforce in unorganised sectors (>80%) driven by availability of cheap labour, national policies on health and safety adopted by government in 2009 was not implemented, multiplicity of statutory controls (over 50 different regulations and laws that touch this subject with no direct ownership)
There was poor health and safety culture, poor incentive structure for health and safety function, apathy of stakeholders due to lack of importance given to health and safety in either education or employment i.e. 'your safety is your problem' attitude perpetuated throughout.
Lack of infrastructure to support better health and safety outcomes, meagre public spending on health (4.7% of GDP), infrastructure problems for both training new professionals in workplace and for executing work in a manner compliant to best-in-class health and safety norms such as wearing hard hats at construction site, high visibility vest, protective clothes, goggles etc.
The two government initiatives has leveraged on foreign health and safety experts, that have helped to support the government to create and drive health and safety legislation to all sectors, especially the unorganised sector. Improved awareness of health and safety function among stakeholders across the government and private sectors- driving change in organisational culture to proactively focus more on health and safety and environment outcomes. Also rapid development of infrastructure to support the training of the next generation of health and safety professionals.
Nigeria needs to try and learn from these Indian initiatives with a view to applying them where and when applicable in the various sectors in Nigeria. However, there are some framework that the government need to put in place first to raise the awareness of health and safety in Nigeria.
The Nigerian government needs to pass a bill in a timely manner that will legislate on health and safety issues. A government agency, equivalent to the Health and Safety Executive (HSE) in the UK, needs to be set up with the relevant statutory powers, to be responsible for all health and safety issues such as regulation, education/awareness, training, support, advice and guidance. At the moment, no single agency or ministry is responsible for health and safety in the Nigeria.
Nigeria will also need to partner with an international health and safety expert body and leverage on their expertise, so we do not reinvent the wheel.
Hopefully, with these health and safety initiatives in place, investors will feel reassured to invest in Nigeria and help us achieve our diversification strategy and at the same time make sure our citizens are safe, healthy, ensure their emotional well-being and mental health…… This can only be a win:win:win for a well diverse and diversified Nigeria.
'Ronke Adeagbo FCA FCCA is a chartered accountant and a Director of British Safety Council.