A delegation hands over letter for Ghana President on illegal mining to High Commissioner in London.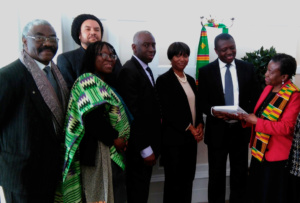 A delegation representing Ghanaians and pan-Africanists in Ghana and the Diaspora concerned about ecocide and the damaging effect of illegal mining on human lives, animals, and the environment, presented a letter addressed to President Nana Akuffo-Addo to the acting Ghanaian High Commissioner H.E. Mr. Damptey Asare last Wednesday.
The delegation, led by London-based socio-political community group Africans For, is particularly    concerned about ecocide and the destruction of the Ghanaian environment, particularly the pollution of waters and water beds which has rendered a lot of drinking water unsafe.
The letter urges the Government to secure affected areas, stop the illegal mining and begin the clean up process, whilst also exploring alternative means of income for persons involved in illegal mining. It also urged the Government to ensure that those mining legally conform to environmental regulations.
The letter, which was copied to ministers and chiefs in Ghana, was co-signed by over 30 Ghanaians based at home and abroad, and several pan-Africanists.
Awareness of the extent of the destruction of the environment from illegal mining came from posts circulated by the OAA 78 Group and Law 86 Forum Ghana WhatsApp groups, and Serwah and her fellow lawyers in and out of Ghana, with support from local media such as Citi FM and TV3, and activist group OccupyGhana, decided to lend their voice to the campaign to end illegal mining, and ensure that legal miners abide by environmental regulations.
Last month the Government issued a well-publicised ultimatum to illegal miners to cease operations.