The Nigerian women's bobsled team was celebrating on Friday after becoming the first from Africa to ever qualify for the Winter Olympics.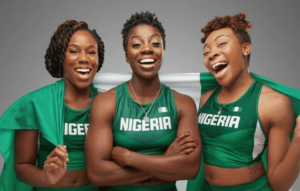 The Bobsled and Skeleton Federation of Nigeria posted a photograph on its Instagram account of the three-woman team high-fiving one another with delight at making it to next year's games in Pyeongyang, South Korea and said: "Ecstatic to say the least."
"We are so proud of our Women's Bobsled team being eligible to qualify for the Winter Olympic Games," it added after they completed their last qualifying run in Calgary on Thursday.
The qualification of Nigeria — where temperatures are currently upwards of 35 degrees Celsius (95 degrees Fahrenheit) — has inevitably drawn comparisons with Jamaica's participation in the 1988 Games in Calgary, Canada, which led to the 1993 Hollywood film "Cool Runnings".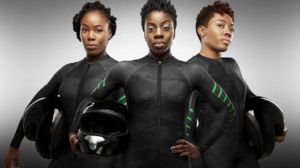 Nigeria's team — driver Seun Adigun and brake-women Ngozi Onwumere and Akuoma Omeoga — have done little to play down the comparison.
They crowd-funded the $150,000 (130,000 euros, £114,000) required to train and compete and through a mixture of savvy marketing and publicity have developed a strong online profile that has helped attract sponsorship from Visa and sportswear manufacturer Under Armour.
Reaction to their qualification in Nigeria was largely one of surprise, with many people unaware the football-mad country even had a bobsled team.
"I'm honestly not fully sure what a Bobsled team really is. But Go Nigeria!" wrote one user on Twitter.
The women, who were all born and grew up in the United States, have a background in athletics. Adigun, competed for Nigeria at the 2012 Olympics.
She told the BBC in April this year: "My goal is to get this team representation for this country (Nigeria) and this continent (Africa) at the Olympic Games…
"We are from a continent that would never imagine sliding down ice at 80 or 90 miles an hour (130-145 kilometres per hour).
"The idea of being able to take to that in itself is empowering."
Visa support
Visa recently announced the addition of the three athletes who make up the Nigerian Women's Bobsled Team to Team Visa. Together, the bobsled team pilot Seun Adigun, and brakemen Ngozi Onwumere and Akuoma Omeoga, combine their elite track backgrounds to chase their bobsled dreams.
Without access to proper training equipment or valuable ice time to perfect their skills, the members of the Nigerian Women's Bobsled Team started their journey on the snow-less grounds of Houston, Texas, in a wooden sled they nicknamed 'The Maeflower.'
Once the team set their sights on the Olympic Winter Games Pyeongyang 2018, they established a crowdfunding website hoping to raise the much-needed funds to get to PyeongChang. Upon discovering the page, Visa was inspired by their story and determination to carve out a place in history and pledged to help solidify the team's trip to the Olympic Winter Games.

"When we first heard their story we recognized the collective spirit of these athletes as a perfect fit for Team Visa," said Chris Curtin, chief brand and innovation marketing officer at Visa. "By joining Team Visa, we hope to provide this group of determined athletes with a global stage to tell their story and inspire athletes all over the world to follow their dreams and never give up."
The athleticism and determination of each member of the Nigerian Women's Bobsled Team is palpable, as they push to rewrite history in their sport.
Seun Adigun, the Bobsled Driver, represented Nigeria in the 100m hurdles at the London 2012 Olympic Games. Wanting to get back on the Olympic stage, she began training for bobsled in 2014.
Ngozi Onwumere, the Bobsled Breakmen is a former competitive sprinter, who clinched a silver and gold medal at the 2015 African Games in Republic of the Congo in the 200m and 4x100m relay, respectively. Onwumere started training after being recruited by Adigun in 2016.
Akuoma Omeoga is a graduate of the University of Minnesota where she was a sprinter for the university's track and field team, competing in the 100m and 200m races. The Olympic Winter Games Pyeongyang 2018 will be the first time she is representing Nigeria.
"Already the support and encouragement we have felt as part of Team Visa has been a dream come true," said Seun Adigun, driver of the Nigerian Women's Bobsled Team. "We are proud to be part of a team that shares our mission and has connected us with the resources we needed to reach our goal, and hopefully empower others to do the same."
Since the programme began in 2000, Team Visa has supported over 400 Olympic and Paralympic Athletes and hopefuls by providing them with the tools, resources and support they need to reach their highest potential, regardless of origin or background. Team Visa features a diverse group of Olympic and Paralympic athletes who embody its core values – acceptance, partnership and innovation – and was cultivated with the global reach of the Olympic and Paralympic Games in mind.
The Nigerian Women's Bobsled Team joins Team Visa's diverse roster of athletes, which includes Mikaela Shiffrin (USA), Chloe Kim (USA), Gus Kenworthy (USA), Hilary Knight (USA), Oksana Masters (USA), Mark McMorris (Canada), Lee Sang-Hwa (South Korea) and Kamil Stoch (Poland), among others.
Kindly follow us on twitter:@AfricanVoice2