Anthony Oluwafemi Olaseni Joshua, the British-born son of a Nigerian mother and Irish/Nigerian father advances his career in a fight with heavyweight Wladimir Klitschko, a more experienced in front of 90,000 fans.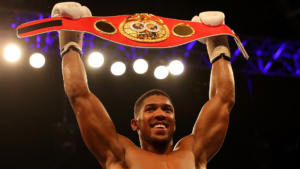 Anthony addressing the press before the fight said, "It is a fight. The best man wins. That is what it comes down to. This is what we do. Wladimir has been doing it for so many years and I have been doing it for so many years.
"I have met opponents that I don't like and I have met some opponents that I do like but at the end of the day the destination and the goal has always been the same and that is winning."
Joshua appeared relaxed and confident as he thanked fans for coming out and he promised to deliver a career-defining performance on Saturday night.
"Victory is written all over me right now because I feel great," Joshua added, as Klitschko watched him intently from a seat at ringside.
"I feel positive, I feel confident and that is all that matters."
Lennon Lewis had predicted a win for Anthony Joshua few days before the fight. Lewis is unsure whether Klitschko can come back to trouble Joshua almost 18 months after his last fight, when he lost his WBA 'Super', IBF and WBO belts to Tyson Fury in Dusseldorf.
Lewis told Sky Sports News HQ: "Joshua is big, powerful and strong. Right now any time he steps into the ring he's knocking everybody out.
"All these heavyweights are sitting outside of the ropes, waiting to see if Wladimir is going to fall by the wayside. Anthony said no – while you guys are waiting I am going after him. I commend him for that and it's the right time to go after him.
"Obviously there is a little glitch in his armour – Tyson showed that. Wladimir is definitely beatable and you have to go in there positive. Joshua has got a lot in his head right now, lots of people will be there and there is a lot of pressure, but he's focused and he knows what he wants to do. I think it's going to be a great fight."
Lewis wonders, as legendary coach Freddie Roach had earlier on Tuesday, whether Klitschko has another big fight in him and feels, if he was in the same position, he would call it a day on the back of defeat against Joshua.
He added: "Wladimir has a lot of experience obviously. Anthony's maybe only had two championship fights so there is a bit of experience there.
"He's been in the game a long time and it's whether he can use that to beat Anthony or whether Joshua's experience is going to overdo his. Joshua is in great shape, he looks good, throws a fast jab and he's got youth. Wladimir is 41 and he doesn't have those great legs anymore.
"Some people can take a loss and it can destroy them, others a loss can build them up. He could say 'Yeah they think I am old, and don't have it anymore' and that can boost him up to show this young' unexperience and that I still have it. He may be saying 'I am going to surprise everybody'.
"If Wladimir loses he may call it a day – if I was in his position I would.
"Even if Joshua loses, he will be successful because sometimes you have to lose to win. He's going in wanting to win and with goals for himself. This is one of the goals to beat Wladimir."