HEN Foundation, a non-governmental organisation in the United Kingdom in collaboration with the University of Ibadan Cancer Research Centre and The Femi Gbajabiamila Foundation will host a 3-day awareness and free cancer-screening programme in Lagos State South Western Nigeria from 26th of October 2017.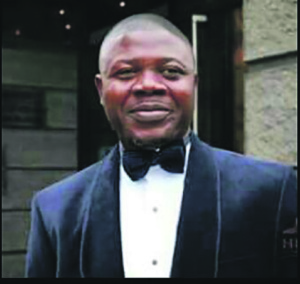 This programme, which is part of the activities to mark the 2017 International Breast Cancer Awareness Month, will see hundreds of women screened at the Akerele Healthcare Centre Surulere, Lagos Nigeria.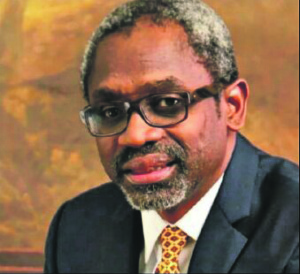 In an exclusive chat with African Voice Newspaper UK, the President and Founder of Hen Foundation, Mr Jamil Eniola said that women would be screened of breast and cervical cancer and treatment promptly offered to those at the risk of the ailment. He further reiterated that the awareness and screening programme was part of the organization's effort at raising awareness among women especially the need for regular self-examination and seeking preventive medical care where necessary as a way of increasing the survival rate of women.
Mr Jamil Eniola disclosed that according to the World Health Organisation (WHO), breast cancer remains the most common malignancy in Nigeria, accounting for over 25,000 women mortalities annually.
He stressed the need for medical check-ups as an avenue for EARLY DETECTION of the disease leading on to prompt treatment protocols that reduces mortality rates. The screening exercise will run from Thursday 26th – 28th October 2017.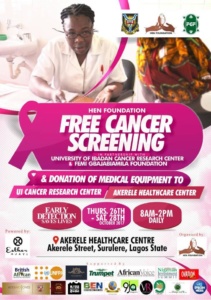 During the screening exercise, there will be counselling sessions where participants will be enlightened on the importance and procedure for self-examination and possible ways of prevention.
The screening exercise will avail the beneficiaries the opportunity to know their health status so as to seek early help where necessary and be reminded to adopt healthy living practices. On the final day donation of Medical Equipment to the University of Ibadan Cancer Research Centre and Akerele Healthcare Centre.
Kindly follow us on twitter:@AfricanVoice2