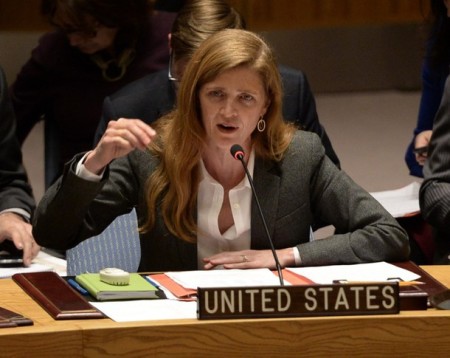 Washington has accused Egyptian authorities of "scaring" politicians and rights activists as well as "violating" human rights, the Anadolu Agency reported.
On her twitter account, US Permanent Representative to the United Nations Samantha Power has called for the Arab world's most populous nation to give a chance for free speech and human rights activities within its borders. "NGOs, journos, activists face ongoing intimidation, arrests," she tweeted.
She also said that Cairo Institute for Human Rights Studies had documented "human rights abuses" in Egypt, saying: "NGOs should be able to operate freely, not be threatened and restricted."
Earlier this month, the Egyptian authorities reopened investigations into cases related to the human rights NGOs over claims of financial irregularities and that they received illegal funds from abroad.
Fourteen NGO have accused Egyptian authorities of "taking revenge" against them, but the Egyptian authorities insist that the judicial institution is "absolutely independent" and deny any politicisation of its decision.