Ethiopia's candidate for the WHO top job has finally been elected to replace outgoing Margaret Chan as Director-General of the United Nations health outfit after three rounds of voting. A former health minister at the voting ground has tweeted that Tedros got votes that passed the over 66% required to be declared the winner.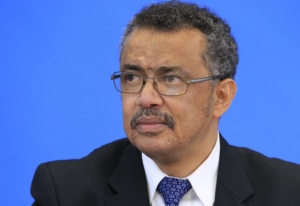 He becomes the first African to ascend to the post in the nearly 70-years existence of the WHO. He is also the first non-physician to be elected to the post. He previously served as health and foreign affairs minister of Ethiopia and till date was a special advisor to Prime Minsiter Hailemariam Desalegn. He beat two other competitors to emerge winner.
The African representative from Ethiopia won the second round of by a narrow margin of just one vote shy of the 66% required. He polled 121 votes against David Nabarro's 62 votes. Voting enters a final round. As things stand now, he needs only one vote more to emerge Africa's first WHO chief.
Ethiopia's former health and foreign minister, Dr. Tedros Adhanom Ghebreyesus, has won the first round of vote in the race to elect the next Director-General of the World Health Organization (WHO).
The voting process took place in Geneva, Switzerland, where the World Health Assembly is meeting. He polled 95 votes as against 52 by his closest challenger, the UK's David Nabarro. The third contestant Pakistani physician, Sania Nishtar got 38 votes.