Club 87, the biggest British African socio-cultural and philanthropic organisation, held its end of the year Dinner/Dance party on Saturday, 9th December 2017, at the Holiday Inn Bloomsbury, London, with approximately 230 guests in attendance.
According to the tradition of this family and community-oriented club (made up of professional gentlemen and their wives), the atmosphere was warm and welcoming, guests arrived to an ambiance of a well decorated banqueting hall, enhanced by rows of mellow hues of light, chosen from the rainbow colours marinated with light jazzy music from the unbeatable selections of DJ Omo Whyte.

The evening rolled on with guests socialising and warming up with cheers, laughter and catching up with old friends, not seen for a long time or last seen at Club 87's 2016 End of the Year party.
The buffet was a wonderful collection of healthy Mediterranean Sea foods, including whole salmon, well marinated alongside juicy lobsters, with the most exotic delicious African dishes, not leaving out the very famous Jollof rice, fish, assorted stews of chicken and beef, selections of vegetables and salads. The dessert was really heavenly, consisting of chocolate cake, plain creamy decorated cake and mixed fruit salad for those watching their weight.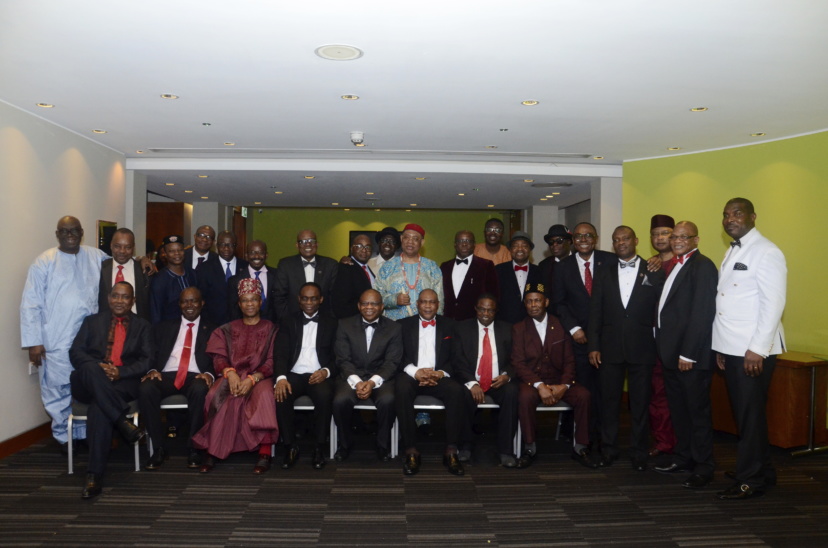 Guests and members purchased raffle tickets to support some of the charities most endeared to Club 87, which includes Prostate Cancer and Sickle Cell charities among others. Many of the guests happily collected their winnings while others donated theirs, which were mostly donated by wives of past presidents (Past First Ladies) and Mrs Cyril Evbuomwan, (First Lady), wife of the reigning President, Dr. Cyril Evbuomwan. A Club 87 souvenir mug was sold at a token to everyone present in support of Club 87 Charity Trust.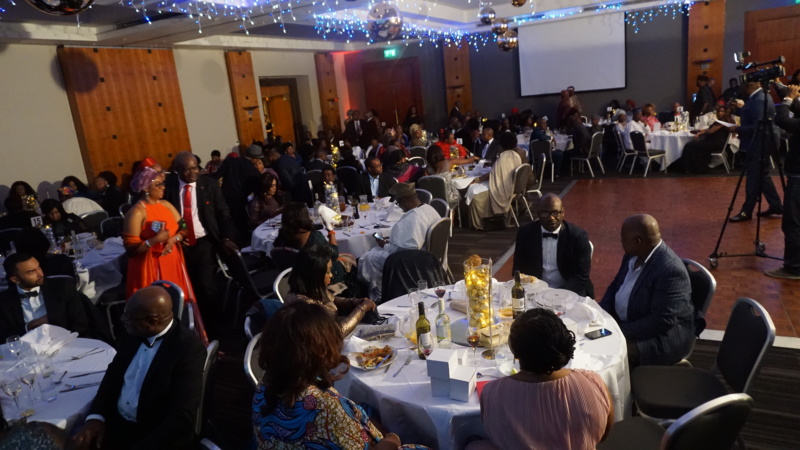 Outstanding and hardworking members of this great club were honoured and celebrated with various awards. Dr. Henry Okosun, the immediate past President of the club was presented with the Presidential Special award of Man of the Year 2017 for his selfless service to the club. While Mr. Gabriel Obiuwevbi received the Club 87 Ambassador Award.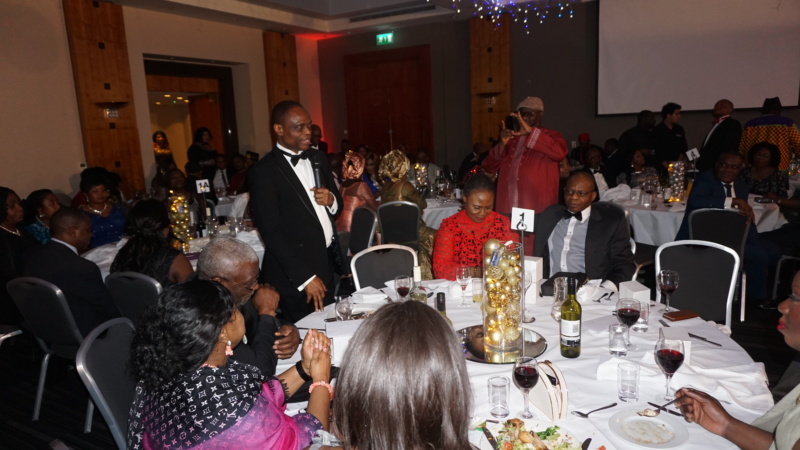 In his opening remark, Dr. Ovuefe Efeotor, a Geologist & Entrepreneur, Chairman of the occasion and one of the Patrons of Club 87 encouraged members to continue to uphold their commitment to the ethos of the club which is to show love towards humanity, and assist each other as much as possible.
The party continued thereafter and the music oozing out from DJ Omo Whyte was not wasted at all. Many guests stayed and danced to their hearts' content before heading home for the night.
Club 87, consisting of eminent and dignified individuals, is one of the biggest British African socio-cultural and philanthropic organisations, serving the well-being and needs of the community in the UK. Members are from leading professional cadre, especially medicine.
The club's charitable status has seen it make outstanding contributions to prostate cancer, sickle cell and other healthcare related services.
Founded in 1987, the club's growth can be traced to the resilience, dedication and selflessness of members and the contributions of their wives.
African Voice is proud to associate with Club 87. Wishing members and their family a Merry Christmas and prosperous 2018.
Kindly follow us on twitter:@AfricanVoice2