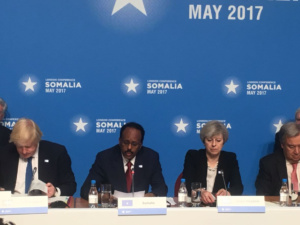 Al Shabaab has tripled its attacks on Mogadishu and more than 6 million people in need of humanitarian assistance
Britain is leading the international community to help Somalia build a more secure, stable and prosperous future for its people.
The Prime Minister Theresa May opened the Somalia Conference at Lancaster House in London on Thursday, 11 May 2017, alongside President Farmajo of Somalia, United Nations Secretary-General Guterres and African Union Commission Chairperson Faki.
In her opening remark, Theresa May said, "it is right to help Somalia to overcome the threat of terrorism and the devastating effects of years of famine and bloodshed; but also because these challenges that face Somalia affect us all.
If Somalia is a foothold for terrorist groups like Al Shabaab and Daesh, if global trade is hijacked by pirates in the Indian Ocean, or if millions are continually displaced in a desperate bid to escape poverty and drought, the impact of instability in Somalia is felt across the whole region and the wider world."
Mrs May further said, We want to see the integration of Somali regional forces and an increase in Somali capacity, as this will be crucial in allowing the resumption of offensives against the remaining Al Shabaab strongholds in southern Somalia, as well as continued pressure on the small Daesh affiliate in Puntland and improved security in Mogadishu. And we want to see Al Shabaab degraded as Somali security forces gradually replace AMISOM across Somalia.
To support this, the UK will provide an additional £21 million over the next two years to bolster our existing efforts to provide training and mentoring to the Somali national army and support wider capacity building for Somali institutions.
Also, a Downing Street spokesperson said: Prime Minister had meetings with President Kenyatta of Kenya, Prime Minister Hailemariam of Ethiopia and President Museveni of Uganda. In her meetings with these leaders, the Prime Minister discussed the importance of the Conference in bringing together the international community to help Somalia build a more secure, stable and prosperous future for its people.
They spoke about the fight against Al Shabaab, and the vital ongoing role of AMISOM in these efforts. Discussions also covered the wider region, including the security and humanitarian situation in South Sudan.
The Prime Minister and President Kenyatta discussed Britain and Kenya's close bilateral relationship in the areas of defence, security, counter-terrorism and trade, and agreed to work together to build on this collaboration. They also discussed the significance of the Commonwealth, and looked ahead to the Commonwealth Summit, which the UK will host in April next year.
In her discussion with Prime Minister Hailemariam, the Prime Minister highlighted the compact agreement creating jobs for refugees as an example of our constructive partnership. Prime Minister Hailemariam welcomed the support Britain has provided for Ethiopia's development, which he said had been instrumental in lifting millions of people out of poverty.
The Prime Minister and President Museveni discussed the strong partnership between the UK and Uganda, following recent visits by Britain's Foreign and International Development secretaries. They committed to working together to strengthen the ties between our nations in the years ahead.