Midas Property Club (MPC) introduces new licensing scheme to landlord and investors within Harrow and neighbouring boroughs, says Eugene Smith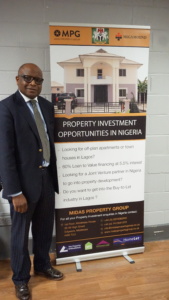 Midas property group founded by property entrepreneur Samuel Fongho is gaining strength and recognition through its monthly Landlord & Investor Forum, this month's event was held on Wednesday 3rd May 2017 in collaboration with Harrow Council for a second consecutive time. This Forum is aimed at individuals and companies involved in the property market.
The Forum gives sound advice to landlords and estate agents relating to legislations recently introduced. Representatives from Consumer Protection Law & Rented Accommodation, using a power point display gave a thorough explanation of the do's and don'ts in dealing with unruly tenants, plus Health and Safety issues which have to be implemented to avoid fines or prison sentence.
The Forum also gives the opportunity for companies associated with the property industry to advertise themselves in front of the audience in 60-second slots. The organiser, Samuel Fongo, hopes to spread this Forum to other London boroughs.
The Guest Speaker, Ben Goldstein, who has sixteen properties spread over Bristol and Western-super-Mare explained how he became successful in property by concentrating within the HMO market (House with Multiple Occupants). His seminar showed how HMO's can be very profitable if one uses a little tender loving care in their approach to making the property esthetically pleasing to the occupants. He also stated that if they are looking to invest in more property, Western-super-Mare is a good place to invest, highlighting the fact that one can buy a four bedroom house with large rooms for less for than £400,000.00.
Weston-super-Mare is located at the gateway to the South West of England and it is an all year-round visitors' destination of choice, a great place to live, work and play whatever your age. Weston-super- Mare is easily accessible by road, rail or air. There are easy links from the M5 and M4 corridor, a central train station and also situated just 15 miles from Bristol Airport.
Complete information about the rules and regulations relating to properties, landlords and estate agents is covered in the monthly Midas Property Club (MPC) Forum. It is a great forum for networking for aspiring landlords or those already involved in the property business.