After four games in the African qualifying competition, Morocco's chances of making it to the 2018 FIFA World Cup Russia looked quite remote. The North Africans were a point behind Group C leaders Côte d'Ivoire and just a point ahead of Gabon, whom they were to face in their fifth match.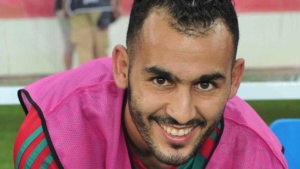 With their final qualifier in Abidjan against the group leaders, pressure was building up and Moroccan football fans were facing yet another World Cup absence.
They received a welcome boost one day ahead of their fifth Group C game when the Elephants were held to a goalless draw in Bamako by Mali. That inched open the door, but it was Khalid Boutaib who kicked it wide open as his hat-trick against Gabon not only knocked out the Panthers, it also kept Morocco's chances very much alive. They can now afford to draw in Abidjan and still qualify for Russia 2018.
"We absolutely wanted to beat Gabon at home to tackle the last match in Abidjan with a chance to qualify," Boutaib told FIFA.com. "There was a lot at stake because the Gabonese had to win if they wanted their chances to stay alive. We took advantage of the Mali draw and now we are in a good position.




"To score three goals, in a game as important as the one against Gabon and in the Casablanca stadium, where there is a great atmosphere, was a great moment. I felt a lot of joy and pride. I had already scored once in the 6-0 victory against Mali at the end of August. But these three goals allowed us to take three points and lead the group."
Born in France to parents of Moroccan descent, the 30-year-old played his first game in the French second division for Gazelec Ajaccio in the 2014/5 season, having previously played for lower league clubs. He helped the side to promotion at the end of that campaign and was a regular as the club struggled in the top flight. He then moved on to Strasbourg, where he scored 20 goals in Ligue 2 last season, prompting Turkish Super Lig side Yeni Malatyaspor to snap him up.
Boutaib is a relatively late starter on the international stage, having only made his Morocco debut in 2016, but is now hoping to lead the line on the biggest stage of all: the World Cup.
"We have our destiny in our hands," Boutaib said. "We do not need to worry about the result of the match between Mali and Gabon. It is of course a good thing, to be in good position just before a decisive match like this. But we know that it will be very difficult.
"Playing away from home, facing one of the best African teams, is not easy. There will be most of the stadium against us, even though we will have fans there to support us. We must expect a match with a lot of commitment, because the stakes are huge."
Kindly follow us on twitter:@AfricanVoice2