Border Force officers have raised awareness amongst airline passengers about female genital mutilation (FGM) during a two-day operation at the Edinburgh Airport on Wednesday 28th and Thursday 29th June.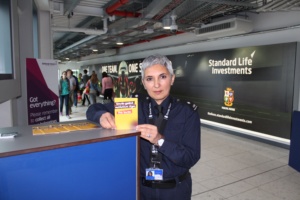 FGM is a barbaric procedure where the female genital organs are injured or changed and there is no medical reason for this. The practice can cause severe pain and there may be immediate and/or long-term health consequences, including mental health problems, difficulties in childbirth, causing danger to the child and mother; and/or death.
FGM is a crime and it is child abuse. The UK Government is clear that it will not tolerate a practice that can cause extreme and lifelong physical and psychological suffering to women and girls.
The operation involved Border Force safeguarding officers with the aim to identify victims and perpetrators of FGM and keep those suspected of becoming victims safe from harm. The exercise focused on identifying female passengers leaving the UK on outbound flights.
Border Force officers, trained specifically to spot the warning signs associated with FGM, worked alongside Police Scotland during the operation in Edinburgh Airport. A team leader from Bright Choices, a service which supports FGM survivors and families affected, also attended the operation to offer advice and guidance.
Leaflets explaining what FGM is, the devastating effect it can have and that it is both illegal to carry out the practice and to take someone abroad for FGM, were handed out to passengers.
Identification and intervention of potential FGM victims at this early stage as they leave the UK aims to prevent the abuse from happening.
The operation has been targeted to run at the start of the school summer holidays in Scotland when there is anecdotal evidence that girls may be more at risk.
Kulwinder Bains, a safeguarding Border Force officer from Edinburgh Airport, said: 'Our work has educated passengers about FGM and raised awareness of the harm this practice can cause. Part of Border Force's role is to protect the vulnerable, including to identify and help children who are thought to have undergone or be at risk of FGM. We are specially trained on how to approach passengers around this sensitive and serious subject in a busy airport setting. I am proud of our work supporting some of the most vulnerable in society.'
Angela Voulgari, service team leader from Bright Choices, part of the charity SACRO, said: 'This initiative with Border Force and Edinburgh Airport is one of many awareness-raising activities undertaken by Bright Choices and is of particular benefit in highlighting the dangers and distress associated with FGM. Our service provides advice and guidance to airport and Border Force staff on ways to engage with individuals and families travelling to FGM practicing countries and advise them on the risks of so called 'honour-based' violence and how to keep their children safe while travelling abroad.'
FGM is a deeply rooted practice, widely carried out mainly among specific ethnic populations in Africa and parts of the Middle East and Asia. It serves as a complex form of social control of women's sexual and reproductive rights. The practice is not required by any religion.
Follow us on twitter:@AfricanVoice2