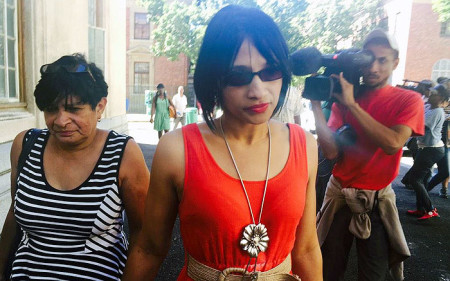 A woman is facing trial in South Africa, accused of snatching a newborn baby 18 years ago.
The 50-year-old, who cannot be named to protect the identity of the child, appeared briefly in a Cape Town court in a case that only came to light when school pupils noticed a strong resemblance between a student and a new girl.
The accused woman has been on bail since March last year after DNA tests confirmed that the new girl at the school and a 17-year-old final-year student were in fact biological sisters.
The new girl was the daughter of Celeste and Morne Nurse, whose first child was taken as a three-day-old baby named Zephany in April 1997 from Cape Town's Groote Schuur hospital. Police were alerted after Zephany's parents became convinced the older girl was their missing baby.
The parents looked on from the public gallery as the alleged kidnapper sat emotionless in the dock. Without knowing it, the Nurse family had been living within a couple of kilometres of their kidnapped daughter, while celebrating her birthday every year and never giving up hope of finding her.
Zephany, who was renamed by her new family, is now approaching her 19th birthday after reportedly being raised with love and kindness by the accused woman and her husband, who she believed were her real parents.
Her whereabouts have been kept secret since she requested protection from the media storm over the case, a spokesman for the social services department told journalists.
In a statement read on her behalf by a lawyer shortly after Zephany discovered the truth about her past, she said: "I want to say thank you to all the people who supported me through this, for continuously praying and never giving up on looking for me (…) Under the circumstances I am doing fine."
Her biological parents told reporters at the time that their joy at finding her overwhelmed any desire for revenge and have thanked their child's alleged abductor for taking good care of her.
The suspect reportedly had a series of miscarriages before allegedly stealing Zephany from the hospital. She has been free on bail on condition that she does not contact potential state witnesses – including her husband and Zephany – and would ordinarily face a minimum of five years in jail if convicted of kidnapping. However, prosecutors have indicated that they could be open to a plea bargain after consultations with both sides.