Argentina's navy is investigating reports of a loud noise detected a few hours after a submarine went missing.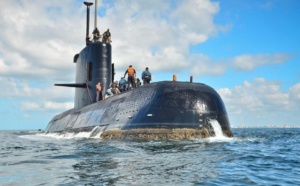 The ARA San Juan disappeared last Wednesday with 44 people on board.
A spokesman called the noise a "hydro-acoustic anomaly" and would not confirm whether there had been an explosion.

Captain Enrique Balbi said the situation was getting critical and "concern is growing more and more" amid fears oxygen on board is close to running out.
One crew member's sister said: "I feel like I'm waiting for a corpse."
Elena Alfaro, who was waiting alongside other family members at the Mar del Plata naval base, told TN news network: "I feel like I'm at a wake. I also feel time passing and time is crucial."
More than a dozen countries including Russia and the US have sent resources to take part in the search for the submarine.
Mr Balbi told journalists: "Today is the seventh day, which was critical for oxygen capacity."
The loud noise happened four or five hours after the submarine's last radio contact, about 30 nautical miles (60 kilometres) north of its last-known position.
"It's a noise," Mr Balbi said. "We don't want to speculate."
Brazil, Chile, Colombia, France, Germany, Peru, South Africa, Uruguay and the UK are among the countries that have sent either ships or planes to help with the search.
The US navy has deployed two underwater vehicles which use sonar to create images of the sea floor.
A Nasa research aircraft has also flown over the search area but failed to spot anything.
The ARA San Juan was returning from a routine mission to Ushuaia, near the southern-most tip of South America, when it reported an "electrical breakdown".
According to naval commander Gabriel Galeazzi, the submarine surfaced and reported the breakdown, which Capt Galeazzi described as a "short circuit" in the sub's batteries.
The sub was ordered to cut its mission short and return to the naval base in Mar del Plata immediately.
According to Mr Balbi, the captain of the ARA San Juan contacted the naval base once more after reporting the problem.
In the message, he reportedly said that the problem had been adequately fixed and that the sub would submerge and proceed towards Mar del Plata naval base.
The last contact was made at 07:30 local time (10:30 GMT) on Wednesday 15 November. It is not known what happened to the sub after that contact.
Kindly follow us on twitter:@AfricanVoice2