The Africa Media Hub London hosted some Diaspora Leaders to a discussion on Modern Slavery in the UK on Friday 21 April.
The event, which was recorded for broadcast had the programme presenters, Doyin Owoeye asking how the community can spot the signs of Domestic Slavery.
Patricia Macauley, Director of Multicultural Marketing Consultancy who was the guest speaker highlighted the signs to spot. She explained why a pilot campaign on Domestic Slavery which is on going in the African media in the UK has a particular focus on the Nigerian community in the UK as evidence shows Nigeria to be the country of origin with the highest number of referrals.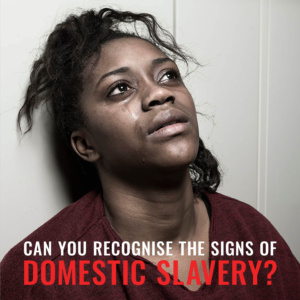 Patricia also said that a recent straw poll on Modern Slavery, taken by 214 consumers of African media in the UK, show a worrying percentage of those surveyed believe they have witnessed Domestic Slavery.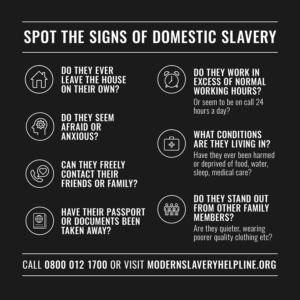 Patricia Macauley, who co-ordinated the campaign explained that Someone is a victim of domestic slavery if they are forced to work in someone's home in unacceptable conditions for no pay or meagre pay and with no – or limited – freedom.  The poll was designed to gain a greater understanding of the public's awareness of modern slavery and to get a grasp of how prolific this hidden crime really is.
Those who have witnessed domestic slavery or any other form of slavery can call the confidential Modern Slavery Helpline which forms the link between community groups, NGOs and government organisations which provide specialist services to the individuals who have found themselves living in modern slavery.
If you'd like to report a suspicion, get help, advice or information call The Modern Slavery Helpline on 08000 121 700 or visit the website: www.modernslaveryhelpline.org