Mo Ibrahim, Sudanese-British business mogul and philanthropist, Mo Ibrahim, says people outside Africa are those that fuel the much talked about corruption on the continent.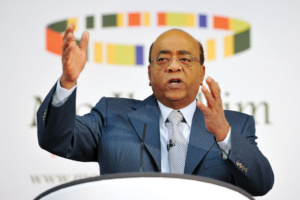 Africanews' Armelle Nga interviewed the billionaire on the sidelines of the 2nd Africa Convergence summit held in the Moroccan city of Casablanca. Ibrahim who is president of the Mo Ibrahim foundation was a guest speaker.
While admitting that there is corruption in Africa as is the case the world over, Ibrahim, 61, slams corrupt business practices which cause the continent to lose huge sums of money whiles people continue to live in poverty.
"I think the corruption of Africa is taken totally out of context, Africa is no more corrupt than any other place around us. For every African leader was corrupt, we have a 1000 European, American, Chinese business people who are corrupt, where are those guys?
"Why only talk about African corruption. What about the Chinese corruption, American corruption and European corruption? We need to be really fair in looking at this issue of corruption. What about companies not paying taxes in Africa?
"What about profit shifting, mis-pricing ? There is a whole lot of corruption around us. What about anonymous companies? Companies whose official ownership is not known, where people hide their stolen money.
"All that are issues of corruption, so all that need to be discussed and let's get away from the scenario that only African leaders have a monopoly of corruption is not true," he asked.
His corruption stance has thus far been consistent after he stated in April during the Ibrahim governance forum held in Marrakech. His foundation seeks to reward African leaders who hand over power democratically at the end of their tenures.
It has, however, failed to produce a winner for the last two years. According to the independent Prize Committee chairman, Dr Salim Ahmed Salim, the second successive failure was due to the high standards and criteria the award holds.
Just as there is no winner for 2016, there were no winners for four previous years – 2009, 2010, 2012 2013 and 2015.
Kindly follow us on twitter:@AfricanVoice2