Simultaneous election fever hits half-a-dozen territories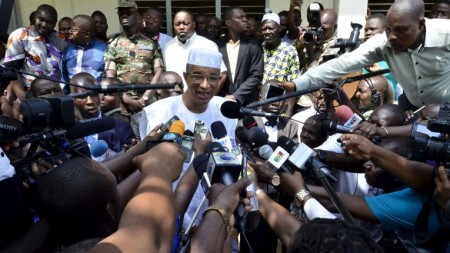 Six African nations voted in crucial elections on Sunday (March 20), some amid not totally unexpected allegations of fraud, corruption and vote-rigging.
Congo-Brazzaville, island nation Cape Verde and the semi-autonomous state of Zanzibar held presidential elections – the later a re-run of last October's cancelled poll. Niger and Benin both held two-candidate presidential run-offs, while Senegal held an historic referendum to test voters' appetites for a constitutional change aimed at reducing the period between elections by two years.
Republic of the Congo
In Congo-Brazzaville – also known as the Republic of the Congo – police anti-riot units resorted to tear gas to disperse crowds of opposition supporters protesting over what they alleged were irregularities after voting ended in the capital.
The government imposed a two-day media blackout, ostensibly to prevent any "illegal" publication of the election results. Interior minister, Raymond Mboulou, wrote to telecommunication companies ordering them to shut off telephone, internet and SMS services for 48 hours for "reasons of security and national safety". Only "official numbers" were excluded from the ban.
Tensions have been running high since a public referendum backed removing a two-term limit that would have kept 72-year-old former paratrooper colonel Denis Sassou Ngeusso from extending his 19-year rule. The October vote also removed a 70-year age limit that would have forced one of Africa's five longest-serving leaders to step down.
The government also outlawed the use of motor vehicles nationwide during the vote, except for those with special permits. In Poto-Poto, in the city centre, dozens of youths took advantage of the vehicle ban to play football in the street.
Cape Verde
On Cape Verde, the opposition Movement for Democracy (MpD) seized power by absolute majority. The official portal Legislative Elections 2016 announced on Monday that, with 98.5 percent of the vote counted, the party led by Ulisses Correia e Silva had gained 121,502 votes and 38 of the 72 seats in Parliament.
The African Party for the Independence of Cape Verde (PAICV), led by hitherto incumbent Janira Hopffer Almada, had received 84,797 votes (37 percent and 27 seats), while the Independent and Democratic Cape Verdian Union (UCID) of António Monteiro came in third place with 15,502 votes (seven percent – 3 seats). Four seats remained undeclared as of Tuesday.
Cape Verdeans go to the polls to elect 72 members of the National Assembly using a closed list proportional representation system. The government, which serves for the next five years, is elected from these MPs.
Zanzibar
In the south of the continent, incumbent Ali Mohamed Shein has been declared winner of the weekend poll in Tanzania's semi-autonomous Zanzibar archipelago.
Shein, of the ruling Chama Cha Mapinduzi (CCM) party, welcomed the announcement, a day after the presidential and legislative vote which was boycotted by the opposition.
"I am prepared to serve Zanzibaris for another five years. Let's work together," said Shein, who has been in power since 2010 and is due to be sworn in again on Thursday.
Sunday's presidential and legislative elections were a re-run of October polls that were cancelled by the ZEC over fraud allegations. Shein won just over 91 per cent of the vote, according to Zanzibar Electoral Commission (ZEC) chairman Jecha Salim Jecha, winning 299,982 votes against just 6,076 — or 1.9 per cent — for his main rival Seif Sharif Hamad of the opposition Civic United Front (CUF) following its boycott of the process.
Hamad was first vice president in the unity government that ruled Zanzibar from 2010 but said he would not participate in any future administration.
Almost 68 per cent of Zanzibar's 503,000 registered voters turned out on Sunday, according to the ZEC. Most polling stations opened on time at 7:00 am (0400 GMT), with voters lining up peacefully but turnout was expected to be low in opposition strongholds after the Civic United Front (CUF) urged its supporters not to participate.
"I am happy to vote again. We will record a landslide victory," said Amina Hassan, a supporter of the ruling Chama Cha Mapinduzi (CCM) party which backs the re-run. But opposition member Yussuf Juma dismissed the election as a sham. "It is a waste of time and resources to vote again. We listened to our leaders not to vote and we have decided to stay away," he said.
Shein was among the first to cast a vote in Stone Town, the historic centre of the capital Zanzibar City.
"I am happy to have exercised my democratic right," Mr Shein said. "It is wrong for the opposition to boycott, but it is their freedom to do so."
The ZEC said there had been no delays in the delivery of ballot boxes and papers and said both local and African observers were in place, although those from the EU had stayed away.
The annulment of October's presidential and legislative elections in Zanzibar came after opposition CUF candidate Seif Sharif Hamad declared himself the winner before results were officially announced. CUF leaders say the move was designed to block their party's victory and deliver another win for the CCM, which dominates on the Tanzania mainland.
Niger
In Niger, a boycott of the two-candidate run-off by an opposition coalition whose leader was not even in the country, handed victory to sitting president Mahamadou Issoufou.
With 226 constituencies counted from a total of 308 as of Tuesday, Issoufou, who is seeking a second five-year term, had received 93 percent of Sunday's vote, according to the national electoral commission. The official turnout was around 61 percent – a figure hotly disputed by the opposition, who estimate an 11 percent turnout with a peak of 22% in Tahoua, the stronghold of the president.
"Basically, the people did not vote," said Ousséini Salatou, spokesman of COPA, who criticised the work of the Independent National Electoral Commission while denouncing "huge turnout" claims and "falsified" reports.
Issoufou's rival, opposition leader Hama Amadou, has been in jail since November on charges relating to a baby-trafficking scandal, but was flown to France for medical treatment last week. The Coalition for an Alternative (COPA), which unites about 20 political parties including Amadou's MODEN, called for a boycott of the polls, claiming the process had been tainted by fraud.
Southern Niger, which borders Nigeria, has been the target of frequent deadly raids by Islamist Boko Haram militants. It also shares borders with Burkina Faso and Mali to the west, where al Qaeda-linked groups are active. Libya, home to Islamic State affiliates, lies on its northern border.
Issoufou, an ally of the West in its fight against Islamist insurgents in West Africa, won the first election round comfortably last month with 48 percent of votes but failed to clinch the outright majority required to avoid a second round.
Benin
In neighbouring Benin, Patrice Talon turned around a deficit in a close-fought first round to emerge the clear winner in his second round run-off battle with Prime Minister Lionel Zinsou to succeed Thomas Boni Yayi, who steps down having served a maximum two terms.
Zinsou told AFP by telephone in the early hours of Tuesday that Talon's electoral victory was "certain", adding that he had called his rival "to congratulate him on his victory, wish him good luck and put myself at his disposal to prepare for the handover."
The head of Benin's independent electoral commission, Emmanuel Tiando, later said that Talon had won 65.39% of the vote to Zinsou's 34.61%, and that the Constitutional Court would confirm the official result in the coming days.
Talon, in a statement issued on his Facebook page, declared himself "proud of my homeland Benin which has once again shown its attachment to democracy". Thanking his supporters he said "we are embarking together on a new beginning, one of fraternity, of justice and of shared effort." He also congratulated Zinsou "for his performance in the campaign and for his fair play."
The flamboyant Talon only returned to Benin from exile in France last October, after he received a presidential pardon having been accused of plotting to assassinate Boni Yayi, the man whose two successful election campaigns he bankrolled.
His remarkable majority, achieved just 14 days after trailing ZInsou in the first round of voting, is being attributed to a combination of him touting himself as an authentic Beninese candidate in contrast to Zinsou, who was born in Paris; and his appeal to Benin's youth, who trust the self-made tycoon to create the jobs that could see them emulate his rags to riches story.
The president elect is due to take office on April 6 and will face major challenges such as tackling high youth unemployment, corruption and improving health and education in the country of 10.6 million people.
French President Francois Hollande has described Benin's election as a tribute to "the strength of Beninese democracy" and pledged his cooperation on development, energy, good governance and transparency "and the fight against terrorism."
Senegal
In Senegal's highly anticipated constitutional referendum, the pro-government "Yes" camp claimed a sweeping victory following a controversial vote widely seen as a test of President Macky Sall's popularity.
The electorate were voting on reforms, such as cutting presidential terms in office from seven years to five and setting an upper age limit of 72 on future candidates.
"The results that we've seen, from our grassroots committees combined with those from the press, show a strong trend from the referendum towards a clear 'Yes' victory, across the country," said El Hadji Momar Samb, a senior figure in the "Yes" camp, at a press conference on Monday.
Opposition parties and several civil society groups had urged Senegalese to vote "No", saying Sall has reneged on a promise to leave office early and criticizing the referendum as a cop-out.
Sall was elected in 2012 saying he would reduce the presidential mandate from seven years to five. He originally campaigned as an alternative to ex-president Abdoulaye Wade, who was seeking an unpopular third stint in power.
Since then, Sall has said his hands are tied by the country's constitutional court, which rejected his proposal to cut his own term, meaning he himself will still serve the full seven years.