The African Development Bank (AfDB) will support Nigeria with a sum of $1 billion to address the country's N2.2 trillion deficit in the 2016 budget.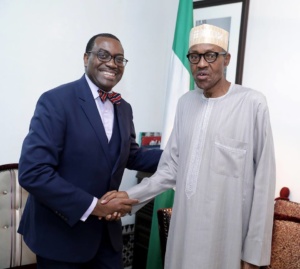 The gesture comes amid re-assurance by President Muhammadu Buhari that Nigeria has the wherewithal to surmount its current economic setback.
AfDB President, Akinwunmi Adesina, who was at the State House in Abuja also unfolded other packages the financial institution has for the country.
They include $300 million to create jobs for 185,000 youths; $250 million for North East infrastructure development; $1 million grant, to deal with challenges of Internally Displaced Persons; $300 million for infrastructure development around Abuja; and $200 million for the Transmission Company of Nigeria (TCN).
Receiving Mr. Adesina, President Buhari said: "God has given us people and resources. It will take hard work on our part, but we will make it. We will get out of our problems."
We are determined to produce what we eat, and stop importation. We will also chase those who stole, and get them to refund." Mr. Adesina appreciated the country's support when he contested the AfDB presidency, making him the first Nigerian to occupy the position since the bank was established in 1964.
The AfDB boss described recent economic policies in the country as "bold, tough, uncomfortable, but right," adding that Nigeria would reap the dividends in due course.
He added that AfDB would give a total of $4.8 million as grant for institutional support, with the Economic and Financial Crimes Commission (EFCC) getting $2 million, and $1 million to the Independent Corrupt Practices and Other Related Offences Commission (ICPC)."You can always count on my support and that of the AfDB," Adesina said.
When Mr. Adesina met with Vice President Yemi Osinbajo, the economic management team, and other cabinet members to discuss the challenges facing Nigeria he added that "All in all we have a portfolio of $4.1 billion dollars from 2016 to 2017 but we intend to raise it to a portfolio of $10 billion dollars in 2019 for Nigeria to work with government to deepen investment.
"Times are hard in Nigeria but I want to assure you that Nigeria does not have debt crisis but revenue challenge.
"The problem that Nigeria faces is the low productivity and low revenue earning profile.
"It will take more than government to come out of recession and we believe strongly that the private sector has an important role to play.
"So what is needed for Nigeria is not only to spend its way out of recession but to incentivise its way out of the recession," Mr. Adesina said.
"We are going to be supporting agricultural sector; we plan to invest 300 million dollars in agriculture through the ENABLE youth which is to develop the new generation commercial farmers.
"Our goal is to create 1000 youth entrepreneurs in agribusiness per state of the federation, making a total of 37,000."
He added that the focus would be on water, health, sanitation, artisanal skills, entrepreneurship and social amenities for the IDPs.
The bank would also provide 200 million dollars to support agriculture through the agricultural transformation agenda support programme and 300 million dollars for Abuja infrastructure project to provide water, sanitation, roads and electricity for four satellite towns of Abuja.
"Nigeria is facing headwinds but with the right incentives the country can get out of the recession with a more balanced economy.
"Nigeria must reap the dividends of Naria devaluation, for the country needs to incentivise its way out of recession," he added.
Kindly follow us on twitter:@AfricanVoice2