By Tolu Baruwa – The second leg of the annual network of top Africans and friends of Africans from the continent and the Diaspora will hold at the Double Tree by Hilton Hotel Manchester, on Saturday 27 January 2018. The very successful first leg of the 19th annual Gathering of Africa's Best (GAB ) Awards  2017 was held on Sunday, 3rd December in London.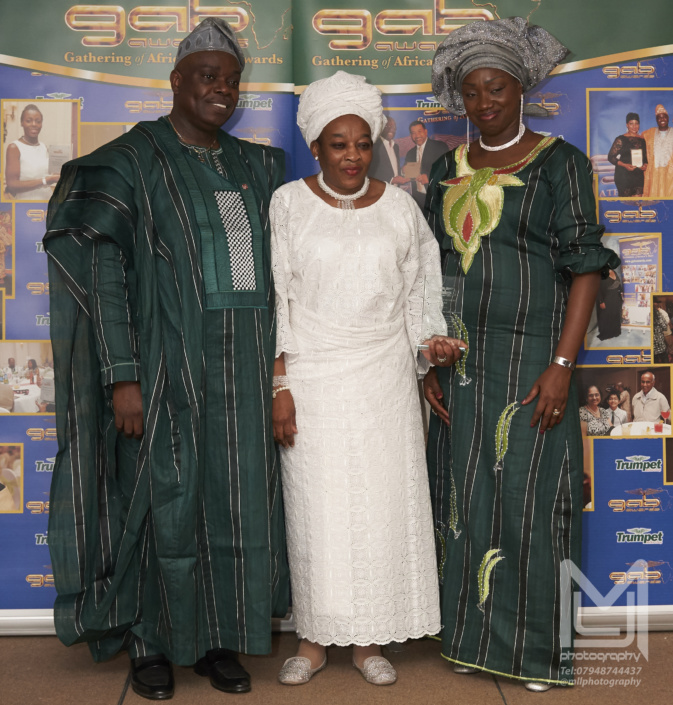 In her Goodwill message, Prime Minister Theresa May, stated that "these awards are an opportunity for us all to recognise the incredible achievements of successful African men and women across sectors…' This merely proves the expansion of African talents and how they are finally being pushed into the spotlight.
Organised by the CEO of Trumpet Media Group, Mr Femi Okutubo, African people in the media, financial services, business, retail and other walks of life were celebrated.
It was hosted by the phenomenal Gloria Ade and the outstanding event compere, MC Mark. The event had such a burst of energy, fuelled with comedy that surrounded the room.
Held at the Hilton Hotel in Canary Wharf, the guests were served with an exceptional African cuisine consisting of the famous jollof rice, curry goat stew and assorted meats – literally Africa's best!
The talents presented at this glorious event, were overwhelming for all who attended. Particular favourites were: Deoba Authentic, Em Prince, Angel SBL, Sophy-Yah and the Brown Dancers, who brought such vibrancy to the event, lifting up everyone's spirits as they entertained the audience. Through these performances, it was insightful to witness the African culture progressively being recognised by the nation worldwide.
After the main event, the winners were interviewed, creating a celebrative atmosphere for all.
Particularly outstanding was, Reverend Mother Esther Abimbola Ajayi, an accomplished Christian leader, Philanthropist and Author with a real passion for the power of prayer and giving as foundational pillars in her life. She was able to radiate her surroundings, giving off a positive energy that was needed in the place.
Notable, was Isaiah S McAye who has filmed and worked with the BBC as a Freelancer and travelled as far as Bangkok in Thailand, Florida, New York City, and Nigeria, just to name a few. Working for James Bonds' 'Skyfall', he has also worked on music films in Nigeria, which have gone on to feature on TV stations like Soundcity TV, MTV Africa and Hip-hop TV Nigeria.
Fourteen sons, daughters and friends of Africa won the GAB Award for Excellence, while three others bagged GAB Special Recognition Awards.
The recipients are:
Award for Excellence
Bukola Olofinjana – Community Development
Blessing Olubanjo – Gospel Music
Isaiah S McAye – Media
Tommy Kallon – Faith
Jamil Eniola – Community Development
Titilola Aboyade-Cole – Media
Mohammed Aslam Khan Lodhi – Elderly Care
Pastor Michael Olufemi Adekoya – Housing Advocacy
Princess Hannah Adedoyin Afolabi – Law
Ms Naeema Ahmed – Energy
Lady Oluyemi Akinola – Media
Michelle O Akintoye – Youth Empowerment
Olutunde Lalude – Health
Lydia Tett Olett – Community Development
Special Recognition Award
Rev. Esther Abimbola Ajayi – Philanthropy
Hon. Alderman Erelu Lola Ayonrinde – Community Development
Pastor Alfred Oladipo Jegede – Faith
The GAB Awards was founded in 1999 to reward excellence among Africans and Friends of Africa in the Diaspora and on the Continent of Africa.
As the New Year comes near, it is vital to continue to celebrate the achievements of Africans – not just on days of events.
The Manchester edition of the 19th GAB Awards holds on Saturday January 27 2018 at the Double Tree by Hilton Hotel, Manchester – Piccadilly One, Piccadilly Place, 1 Auburn Street, Manchester M1 3DG. Time 5.30pm – 11pm. 
Tickets are available at GABAwardsManchester.eventbrite.com
Kindly follow us on twitter:@AfricanVoice2
Photo credit: Adesons Photograph